⭐️ FEATURED
Hello all! It's a very long one, but it's mostly pictures!
"Fear leads to anger, anger leads to hate, hate leads to suffering." This is the fundamental message of George Lucas' Star Wars Saga, and the explanation of the fall of Anakin Skywalker. However, many seems to misunderstand major factors of his fall to the Dark Side and the philosophy of Star Wars – this analysis explores the four qualities of the Dark Side, embedded in Anakin's story.
The ever stronger fear
In the Phantom Menace, Master Yoda senses much fear in Anakin, however, this fear is not the understandable anxiety - Anakin is afraid to lose his mother, Shmi, whom he was forced to leave behind in slavery. This is the fear of loss, what Yoda described as the path of the Dark Side, the inability to accept the fact all life is temporary, and eventually will become one with the Force. The masters feared they are unable to change Anakin's views about life and death - this is why they training the Jedi Knights from a very, very young age, so they can teach them how to see the world.
Fear, anger, hatred and suffering in Attack of the Clones - Anakin's first fall
This fear grew even stronger in Anakin, and ten years later, he was haunted by nightmares about his mother. Some interpretate "suffering" as the suffering what Anakin causes to the sand people and later the whole Galaxy, but in this movie is revealed it's not the case.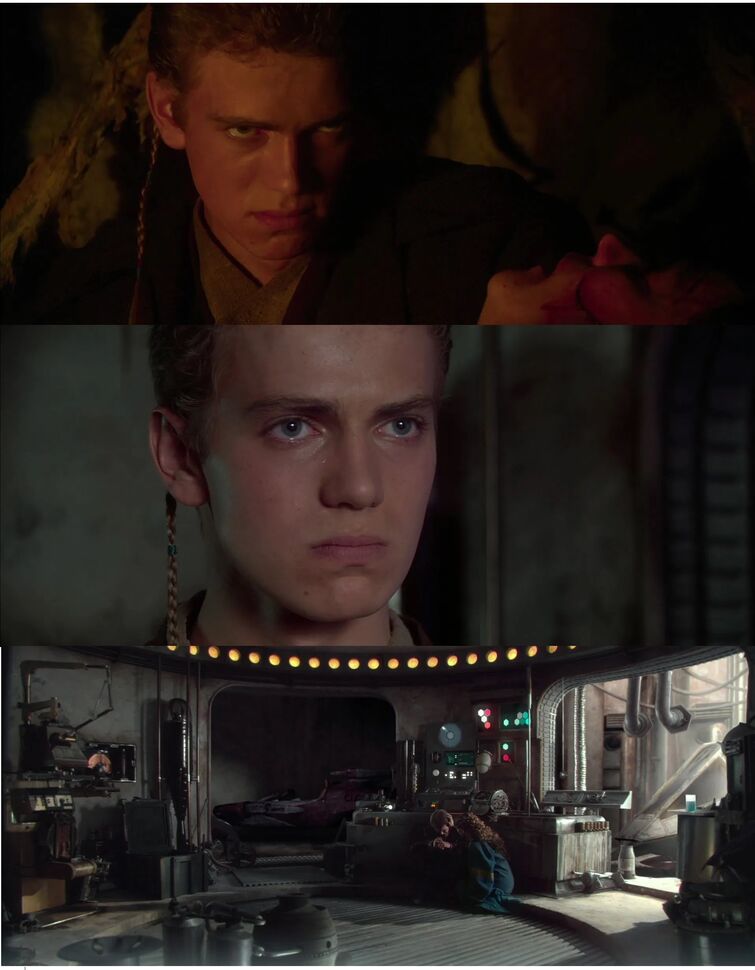 Anakin's fear to lose his mother gives way to anger upon her death, and this anger become hatred toward the sand people. He butchers everyone in the camp, including women and children. As he returns to the Lars home, he confesses his actions to Padmé: he expresses his hatred toward the sand people, yet he suffers from his guilt, saying, a Jedi should be better than this. So no, despite some like to think he is bragging about it, he defiantly trying to justify his actions to himself, but he fails to do so He is in tears as he suffers from the pain caused by to loss of his mother, but the pain what Yoda senses is also guilt. Fear, anger, hatred and suffering - the cycle is complete. And the fear of loss become stronger than ever: Anakin promises to Padmé he will defeat death itself.
Fear, anger, hatred and suffering in Revenge of the Sith
Anakin is unease in Revenge of the Sith - he says Padmé he feels he is falling, and he wants more. Despite many interpretate this means he craves power, he actually confesses the opportunities offered by the Jedi to make the Galaxy a better place to live, are meaningless to him. He fears to lose Padmé, and he wants to save her, just like he tried to save his mother. Palpatine offers him a power what is able to defeat death. According to Anakin, the Jedi are evil (as he said to Obi-Wan) for keeping this power from him, for rejecting the ability to save people from dying. Anakin turns against the Jedi and pledges loyalty to Darth Sidious, but it's essential to point out he does not willing to become a Sith: he says he do whatever Sidious asks if he teaches him how to defeat death and save Padmé. He murders the children in the Jedi Temple, to obey Sidious, then he slays the separatists on Mustafar.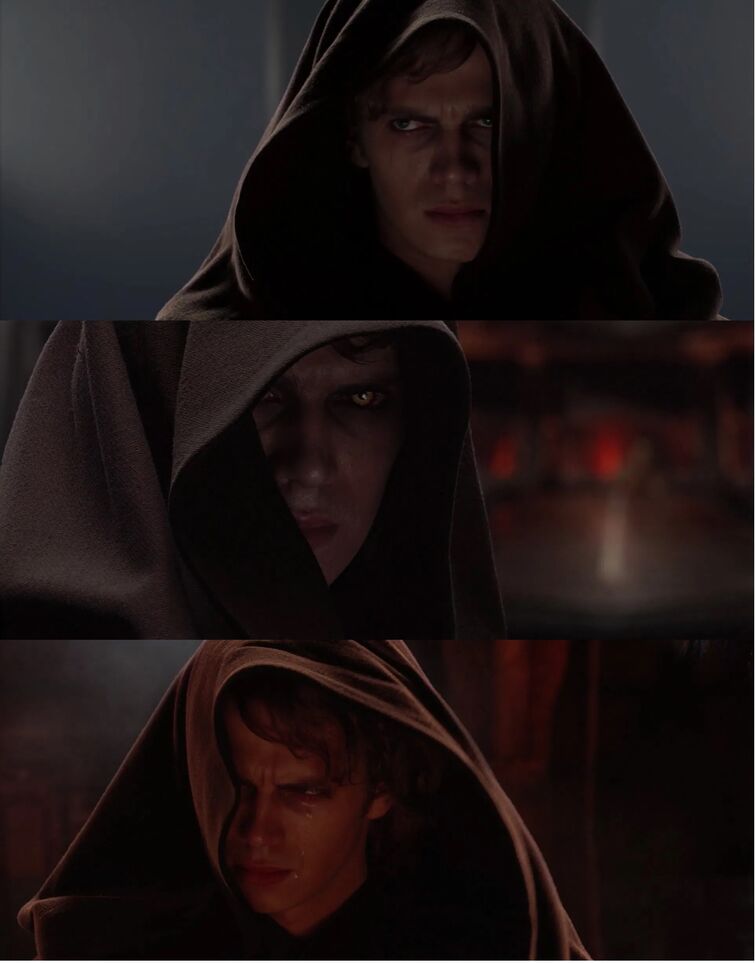 As it was pointed out by many, his eyes are not flaming in the Jedi Temple but they are glowing on Mustafar. This is because Anakin killed the separatists out of hatred, not out of necessity - he did not hate the children but he sacrificed them in order to save Padmé.
And on Mustafar he is in tears, suffering from guilt and the horror of his deeds. The cycle, once again, is complete.
When Padmé arrives to Mustafar, Anakin expresses his true intentions, what was already established in Attack of the Clones during the picnic scene (and this is why it's one of the most important dialogues in Star Wars). Anakin planned to overthrow Sidious and become an Emperor with Padmé as an Empress, but this is not really about power. This is about saving the Galaxy. Anakin always viewed the Senate as a useless body, as democracy failed him -
"Then they should be made to [do what's the best for all people]". He believes now he is this someone, who can ensure justice and peace will rule the Galaxy, as he stated. He doesn't understand why Padmé is horrified by this plan. And here, the fear of loss is in the form of jealousy.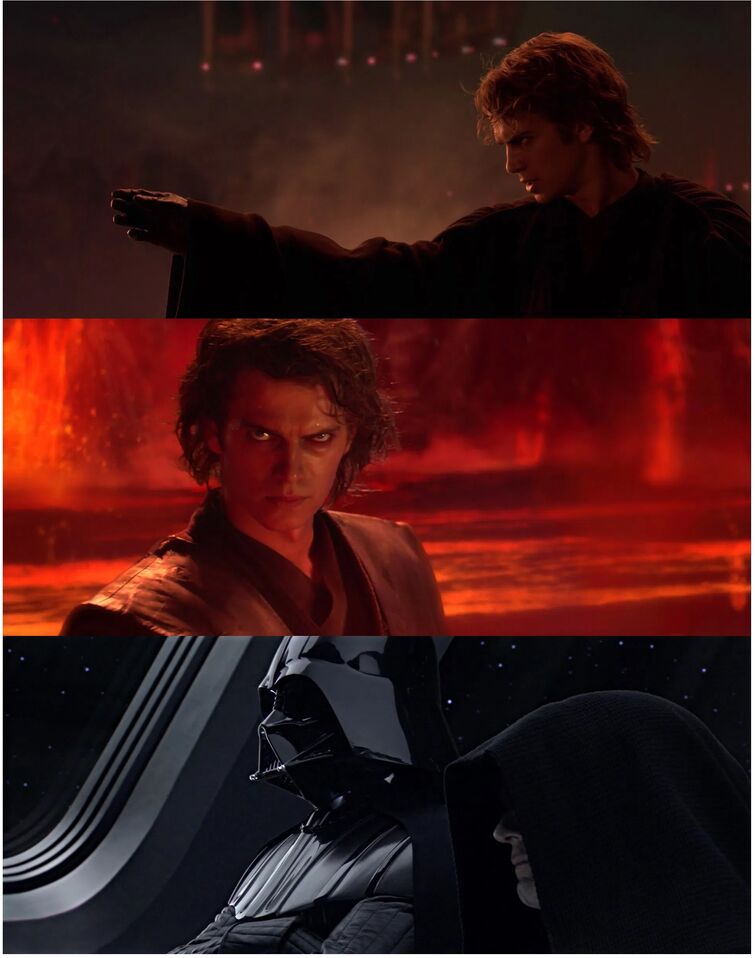 Anakin is afraid to lose Padmé - he don't want her to die, and he don't want her to leave him. Blinded by anger, he grasps into her, choking her (which is the literal manifestation of attachment, which is grasping and clinging) in fear and anger, and in hatred toward Obi-Wan who he believes to turn her against him and tries to take her from him, he attacks his old friend and mentor. His suffering become physical, as he burns into a charred remnant of flesh - but his true suffering starts when he learns that Padmé died, and he believes his children are also died. This is the final cycle of the Dark Side and revelation of it's promise: it promises everything yet at the end you lose everything. Anakin become Darth Vader: imprisoned into his own suffering and the loss of almost every humanity.