"My brothers died on a rebel raid with the 181st that never should have happened. I blame the Imperial senator who pushed for that doomed mission just as much as I blame the rebels who fired the torpedoes."
―Havina Vonreg
The 181st Imperial Fighter Wing[2] was a fighter wing of the Galactic Empire's Imperial Starfighter Corps. The group was known for the red stripes that adorned their starfighters, a menacing display to their victims that inspired fellow Imperial squadrons to adopt similar designs.[1]
At some point before the Dissolution of the Imperial Senate[1] in 0 BBY,[3] a member of the senatorial body advocated for the 181st to execute a raid on the Alliance to Restore the Republic. The mission proved to be disastrous, with the wing losing at least two men,[1] including Hedrian, the younger brother of fellow TIE fighter pilot Havina Vonreg.[4] She held the senator accountable for her brothers' deaths just as much she did the rebels.[1] Around 4 ABY,[5] the pilot later mentioned the doomed mission to another member of her own starfighter unit, Titan Squadron.[1]
Behind the scenes
[
]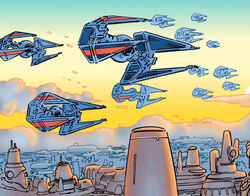 The 181st Fighter Wing was mentioned in the current Star Wars canon continuity in the 2020 video game Star Wars: Squadrons, developed by Motive Studios. The "Ashen Cardinal," a paint job based on the wing's signature red stripes, is available as a "Rare" skin for the Imperial faction's starfighters in multiplayer modes. It can be unlocked by spending 400 Glory, one of the game's currencies.[1]
The 181st Imperial Fighter Wing first debuted in the Star Wars Legends continuity through the 1997 comic X-Wing Rogue Squadron 21, written by Michael A. Stackpole.[6] In Legends, they were notably portrayed as an elite Imperial TIE/IN interceptor unit known as the 181st Imperial Fighter Group,[6] commanded by Baron of the Empire Colonel Soontir Fel. The group was also led at different points by Colonel Evir Derricote[7] and General Turr Phennir.[8] The trademark bloodstripes that donned the unit's TIE Interceptors were awarded to pilots with over ten kills.[9]
Appearances
[
]
Sources
[
]
Notes and references
[
]
↑ 2.0 2.1 Star Wars: Build the Millennium Falcon 33 (Starship Fact File: Imperial TIE/LN Interceptor)
↑ The Dissolution of the Imperial Senate takes place during Star Wars: Episode IV A New Hope, the events of which Star Wars: Galactic Atlas places in the year 0 BBY.
↑ Star Wars: Squadrons dates its main story to four years after the battle at Fostar Haven, which takes place shortly after the destruction of Alderaan. As Star Wars: Galactic Atlas dates the destruction to 0 BBY, the game's main story must take place around 4 ABY.