8D8, also spelled Atedeeate, was an 8D smelter droid manufactured by the Verpine Roche hive.
Biography
[
]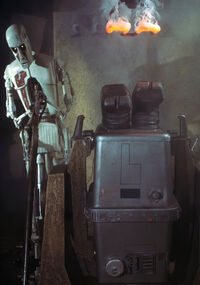 Originally designed for work in ore extraction facilities, 8D8 and other members of his series were strong, solid, and simple. At some point, he was modified to serve as a starship maintenance droid.
Following EV-9D9's migration to Jabba's Palace's on Tatooine in Cyborg Operations, 8D8 was completely reprogrammed to serve as a dedicated torturer of both droids and organics. Despite his programming, 8D8 retained a secret dislike for his sadistic taskmaster, EV-9D9.
Around 4 ABY, during the time that Rebels came to rescue Han Solo from Jabba, 8D8 was following EV-9D9's order by torturing a GNK power droid with a mechanical smelting device that featured a hot glowing iron.
Appearances
[
]
Sources
[
]
Notes and references
[
]