October's Wookieepedian of the Month:
Congratulations from all of us here at Wookieepedia!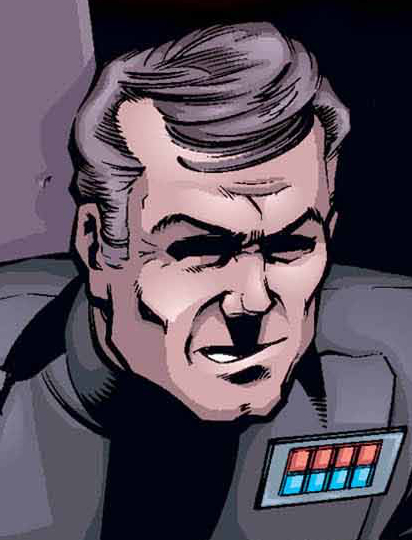 Paltr Carvin was an Imperial general and Tribune who briefly ruled the Galactic Empire in 5 ABY. A member of the Imperial Ruling Council, Carvin seized control after Sate Pestage was accused of treason and fled Imperial Center. Working with Director of Imperial Intelligence Ysanne Isard, Carvin put out a warrant for Pestage's arrest, and as a result the former Grand Vizier was captured on Ciutric IV.
Carvin appointed
Admiral
Delak Krennel
to retrieve Pestage and bring him back to Imperial Center, but the ensuing
evacuation of Ciutric
prevented that. Pestage had been rescued by
New Republic
agents, but the agents themselves had been forced to stay on the
planet
due to the presence of the
Interdictor Star Destroyer
Binder
. Krennel initially failed to take control of the situation, however, turning it into a fiasco. Meanwhile, Isard had Carvin's closest colleagues
assassinated
, before having the general himself arrested. As control over the Empire was wrested from his grasp, Carvin was taken to the
Lusankya
prison
facility, where he was to be reconditioned to serve Isard loyally.
(Read more…)
Community content is available under
CC-BY-SA
unless otherwise noted.