February's Wookieepedian of the Month:
Congratulations from all of us here at Wookieepedia!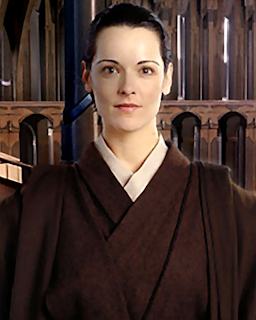 Olana Chion was a Human female Jedi Knight during the waning years of the Galactic Republic. Born on Kegan in 45 BBY as O-Lana, she became a point of contention between the Jedi Order and Kegan's Benevolent Guides. The Order sought to train her as a Jedi, whereas the Guides foresaw that fraternization with the Jedi and the Republic would lead to devastation in the years to come. The Guides kidnapped O-Lana but had their efforts thwarted by the Jedi Qui-Gon Jinn, Adi Gallia, Obi-Wan Kenobi, and Siri Tachi. O-Lana was then accepted as a Jedi Initiate and taken to the galactic capital of Coruscant.
O-Lana took the name of "Olana Chion" while growing up in the Jedi Temple in order to more suitably fit in with her peers. She fervently hoped to become the Padawan of Kenobi, but when he took on the young Human boy Anakin Skywalker instead, she developed an ire towards Skywalker that lasted for over a decade. Chion eventually apprenticed to Avan Post when she came of age, and he trained her for ten years before being killed at the onset of the galaxy-spanning Clone Wars in 22 BBY. The Jedi Council soon after promoted Chion to the rank of Jedi Knight, hoping that she could lead clone troopers of the Grand Army of the Republic in the war.
Chion instead chose a more pacifist approach to wartime service and devoted her attention to the refugees of ravaged
worlds
. When
General
Grievous
of the
Confederacy of Independent Systems
launched an
attack
on Coruscant
three years
into the war, she was tasked with evacuating and coordinating millions of the capital's
residents
. The attack was repelled, and the war itself ended shortly thereafter with the
betrayal
of the Jedi Order by the
Republic's
Supreme Chancellor
. Skywalker, now a
Sith apprentice
to the
Chancellor
, led an
attack
on the Jedi Temple, and Chion was among the first of his victims.
(Read more…)
Community content is available under
CC-BY-SA
unless otherwise noted.