February's Wookieepedian of the Month:
Congratulations from all of us here at Wookieepedia!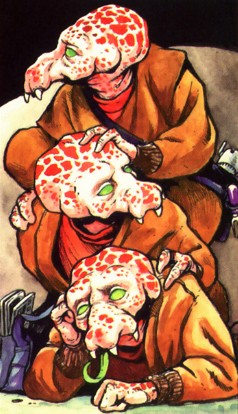 The
Turazza
were
sentient
, short, mottled
reptiles
that hatched from
eggs
. They were able to run faster than a
Human
and had comparable strength, but they sometimes had trouble trying to use items designed for taller beings. Turazzas were seen on several
planets
during the
years
of the
Galactic Civil War
, although they rarely spoke any
language
but
their own
. Turazzas were often considered to be unsuitable for certain kinds of job, and were sometimes seen as little more than pets. The Turazza sisters
Nizzal
,
Rizzal
and
Vizzal
acted as assistants to the
Twi'lek
trader
Loh'khar
, although their abilities were frequently underestimated by his clients. Similarly, while the Turazza known only as
Redeye
—because of the color of his
eye patch
—was in charge of the security at the clandestine
pub
Exovar's Emporium
on the planet
Neftali
, many of
Luskin Exovar
's acquaintances and customers were surprised by that fact.
(Read more…)
Community content is available under
CC-BY-SA
unless otherwise noted.