August's Wookieepedian of the Month:
Congratulations from all of us here at Wookieepedia!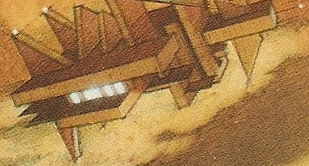 Han Solo's sky house was the dwelling of Rebel hero General Han Solo and his Wookiee companion Chewbacca, designed and built personally by the pair. Solo and Chewbacca had long had the dream of settling in a sky house—a concept of their own design—before they finally got the chance in 5 ABY, when Cloud City Baron Administrator Lando Calrissian offered his old friend Solo a lease on a parcel of sky near Cloud City on Bespin. Solo and Chewbacca took a leave from the Senate Planetary Intelligence Network in order to construct the home in a rented Cloud City warehouse. The sky house was elaborate, a unique feat of engineering which boasted modern conveniences, luxurious furnishings, and such striking features as a rotating living room, a domed kitchen, a full engineering workshop, docking facilities for Solo's ship Millennium Falcon as well as a two-cloud-car garage, outdoor observation areas, and a plethora of bedrooms.
The home was swiftly completed, and Solo and Chewbacca threw a festive housewarming party which many galactic figures attended. Solo received many presents from his friends, most notably
KT-18
, a
housekeeping droid
to manage the residence. The intervention of claimant to the
Imperial
throne
Trioculus
and vengeful
Zorba Desilijic Tiure
, foes of Solo and his friends, on Bespin immediately after the party made life there untenable, and Solo was forced to abandon the house only hours after the housewarming party concluded. Solo harbored fond hopes of returning to his dream house, but time ultimately found him dwelling on
Coruscant
, not Bespin.
(Read more…)
Community content is available under
CC-BY-SA
unless otherwise noted.