August's Wookieepedian of the Month:
Congratulations from all of us here at Wookieepedia!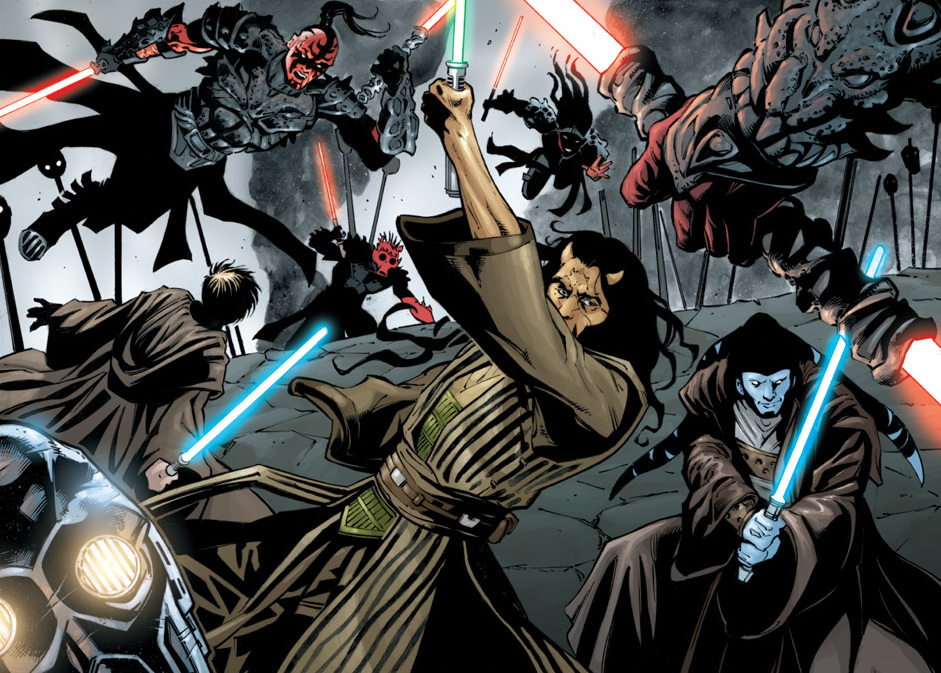 In 137 ABY, five members of the One Sith ambushed a gathering of four Jedi on the planet Daluuj. The Jedi Order had been scattered throughout the galaxy following the devastation of their ranks by the Sith seven years prior, and the Sith Lord Darth Krayt's Galactic Empire had been hunting down survivors in the time since. Jedi Master Wolf Sazen believed that his wayward former Padawan, Cade Skywalker—heir to the legacy of the legendary Skywalker family—was the only one who could lead a unified Jedi resistance against the Sith, and he accordingly arranged to meet with three other Jedi on Daluuj in order to request their help in locating Skywalker.
Sazen, Master
Ahn Rasi Tuum
,
Jedi Knight
Shado Vao
, and a
female Human Jedi
gathered on a bridge on Daluuj's surface, where Sazen outlined his beliefs to his colleagues, all the while unaware that a group of Sith was watching them from the shadows. The Sith soon attacked and quickly
killed
both Tuum and the
Human
female
, but Sazen and Vao fought back.
Lightsaber
strikes,
telekinesis
, and firm kicks allowed them to slay all five of their opponents. The attack prompted Vao to admit that he no longer wished to hide from the Sith, and he thus agreed to join in Sazen's quest to locate Skywalker. The two left the scene to begin their
hunt
and soon after found their quarry on the planet
Vendaxa
.
(Read more…)
Community content is available under
CC-BY-SA
unless otherwise noted.