February's Wookieepedian of the Month:
Congratulations from all of us here at Wookieepedia!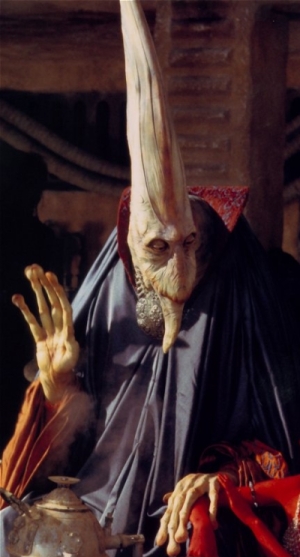 Graxol Kelvyyn was an Anx male slave trader and an obsessive gambler who sold living cargo throughout the Outer Rim Territories around the year 32 BBY. His business was based on the planet Ryloth, but pleasure frequently brought him to the world of Tatooine; there, Kelvyyn bet on Podracing events. Often on his arm was the Lethan Twi'lek Shakka, his property and love interest. In 32 BBY, they both attended Tatooine's Boonta Eve Classic Podrace and viewed the competition from the private box of Kelvyyn's friend, the Toydarian merchant Watto.
Kelvyyn initially wagered that the
Dug
racer
Sebulba
would win the event. However, impressed with Watto's
young
Human
slave
Anakin Skywalker
, the Anx placed several bets on the boy after the competition began. When Skywalker won the race, Kelvyyn smugly demanded
wupiupi
from Watto, who had shown little faith in his own slave. Years later, the
sentientologist
Tem Eliss
mentioned Kelvyyn in his
academic writings
; although Kelvyyn was a gentle and loving being, Eliss considered him a dishonorable example of the Anx
species
.
(Read more…)
Community content is available under
CC-BY-SA
unless otherwise noted.