April's Wookieepedian of the Month:
Congratulations from all of us here at Wookieepedia!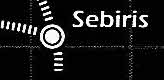 Sebiris was a planet located in the Sebiris system of the Outer Rim Territories' Kathol sector. A hot jungle world, it was the homeworld of the Sebiri, a primitive species of scaly-hided humanoids. At some point, Sebiris had been visited by an advanced species that the Sebiri referred to as "those who came before," whom they believed created the jungle and performed miracles through the use of glowing charms. The only evidence of their passing was the ruins of a stone temple located within the planet's equatorial region.
During the early
years
of the
New Republic
, the
Imperial
saboteur
and
assassin
known as
the Wraith
visited the planet on a number of occasions to acquire a
virulent toxin
that he used in the course of his assignments. In
8 ABY
, the New Republic
CR90 corvette
FarStar
traveled to Sebiris to obtain a
cure
to the toxin, after their
commanding officer
,
Captain
Kaiya Adrimetrum
, had been afflicted with the
poison
. They were successful in their
mission
, although they were hampered by the presence of the Wraith and a confrontation with the native Sebiri.
(Read more…)
Community content is available under
CC-BY-SA
unless otherwise noted.