April's Wookieepedian of the Month:
Congratulations from all of us here at Wookieepedia!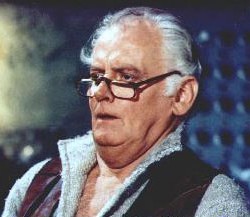 Saun Dann, also known as Sohn Dann, was a jovial Human male who worked as a trader on the Wookiee homeworld of Kashyyyk. He was also secretly a member of the Rebel Alliance who maintained his own network of connections. During the Life Day holiday of 1 ABY, when the Galactic Empire blockaded Kashyyyk and declared martial law on the world, an Imperial guard wandered into Dann's shop and took a groomer without paying, much to the trader's chagrin. Dann then made his way to the home of his Wookiee friend Chewbacca, who had not yet arrived home for the holiday, and whose family was worried about his absence.
After Dann assuaged the Wookiees' fears and gave them all Life Day gifts, he reassured the Alliance's Princess Leia Organa—speaking to them via wallscreen—that the family would be safe. However, an Imperial search party entered the home on a hunt for ties to the Rebels. Dann nervously attempted to prevent the Imperials from discovering that Chewbacca, a well-known Alliance hero, was one of the home's residents, but the search party's Commander ordered him to leave. Dann later returned and found that a recently-arrived Chewbacca had eliminated a stormtrooper who had been left to guard the home, and the trader used the family's wallscreen to convince a suspicious Imperial officer that the trooper had fled his post.
During another Life Day, which came at some point between
0 BBY
and
3 ABY
, Dann celebrated the occasion by ordering two cases of candy for
children
in need. When the shipment was late, he recruited a
spacer
to track it down, and the spacer discovered that the candy had been stolen and eaten by the stormtrooper
TK-555
. Dann resolved to find a replacement gift for the children. He again ordered candy for needy children the following Life Day, but the same fate befell it, and the spacer again brought the trader bad news.
(Read more…)
Community content is available under
CC-BY-SA
unless otherwise noted.