ARC trooper armor was the kit issued to the Grand Army of the Republic's elite ARC troopers and consisted of at least two sets, one being the Phase I ARC Trooper Armor used during the initial days of the Clone Wars and was a template of the phase II clone trooper armor with additional equipment and characteristics. After the implementation of phase II, Phase II ARC Trooper Armor was introduced.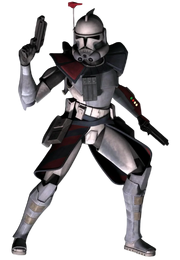 ARC trooper armor was a type of clone trooper armor used by Advanced Recon Commandos, also known as ARC troopers, during the Clone Wars.[6] For some time, ARC trooper armor consisted of the Phase I ARC Trooper Armor, which at its core was similar to the phase I clone trooper armor, although with additional gray armor plating, a double pauldron, additional equipment, a kama, a rangefinder, ammunition pouches, and two holsters.[7]
Later, the kit was upgraded to have consist of a survival backpack and a prototype helmet that retained the phase I's fin, while keeping the other characteristics of the previous armor set.[6] When the phase II clone trooper armor became standard issue to all clone troopers in the later days of the Clone Wars, the kit's baseline Phase I armor and unique helmet were replaced by its successors.[8]
Several Advanced Recon Commandos from Rancor Battalion used ARC trooper armor, including Clone Commander Colt, Clone Commander Havoc, Clone Commander Blitz, and another ARC trooper.[9] ARC troopers CT-5555 "Fives" and Clone Corporal CT-1409 "Echo"[10] and ARC trooper CT-5597 "Jesse" used the armor, the latter during the Battle of Anaxes.[11]
Community content is available under
CC-BY-SA
unless otherwise noted.