Wiki Targeted (Entertainment)
Play Sound
"We cannot get past their cannons, sir."
"Cannons? This will never do. We must pull back and set up our deflector shields."
The AV-7 Antivehicle Cannon, also known as the AV-7 Mobile Cannon, the Republic Artillery Gun, the heavy cannon, or the Clone Artillery Cannon, was a self-propelled artillery unit used by the Galactic Republic during the Clone Wars.
Description
[
]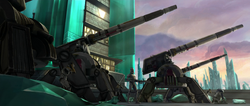 The vehicle could be operated by one clone tank gunner in a seat on the side of the gun, and had a chamber for refilling plasma shells to the side of the lower chassis.
The vehicle would be moved with its built in repulsorlifts until it reached a suitable firing position and then entrench itself on the ground, using four metallic feet for support.
Its artillery shells created a fairly large blast radius, able to take out both vehicles and surrounding droids in a single shot.
History
[
]
"Give it everything you've got! Gunners—break out the AV-7!"

―Rex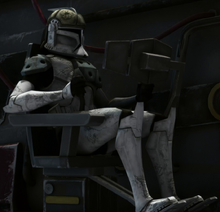 Republic Artillery Guns were used during the Battle of Christophsis where they countered the Confederacy's AATs and titanic Tri-droids. The Separatists then erected a deflector shield which rendered the cannons ineffective. Anakin Skywalker and Ahsoka Tano eventually destroyed the deflector shield generator, disabling the shield and allowing four AV-7s to halt the enemy advance and help score the Republic victory.[2]
These cannons were also used during the Second Battle of Geonosis when Anakin Skywalker and Ahsoka Tano were attempting to infiltrate a Separatist droid factory. Many of these cannons were destroyed by the Separatist experimental super tanks.[3]
Behind the scenes
[
]
After its appearance in the Star Wars: The Clone Wars animated film, the AV-7 antivehicle cannon appeared in October 2011 as a miniature in the Clone Wars Tactics expansion of the Star Wars PocketModel TCG collection, which was later released on November 12, 2008.[4]
In 2011, Hasbro produced a Clone Wars edition of the vehicle, the Republic AV-7 Mobile Cannon. The action vehicle was built to accommodate the company's 3-3/4" action figure line of Star Wars figures. The vehicle featured a caterpillar-like tread assembly on the underside, in contrast to the in-universe units demonstrating motion via repulsorlifts.[5]
In LEGO Star Wars III: The Clone Wars, the AV-7 is the cannon option when playing on the Republic side in large battles, a counter to the CIS' proton cannon.
Appearances
[
]
Sources
[
]
Notes and references
[
]
↑  Star Wars PocketModel TCG – Clone Wars Tactics (Card: 38th Armored Division Clone Artillery Cannon)