A New Hope was the third expansion card pack made for the Star Wars Trading Card Game by Wizards of the Coast, based on the movie Star Wars: Episode IV A New Hope. The expansion symbol is that of the Rebel Alliance.
The expansion was released in October 2002 and contains 180 cards including 60 rare, 60 uncommon and 60 common cards.
A New Hope has been sold in boosters containing 11 (7 common, 3 uncommon, 1 rare) or 5 cards. It was also available in dark side and light side decks of forty cards apiece.
New abilities
Edit
Pilot – Characters can pilot space or ground units increasing their attributes or adding new abilities
Intercept – If a unit is attacking one of yours units in the same area as this unit, it now attacks this unit instead
Accuracy – Adds +X to each of this unit's attack dice
Card types
Edit
Battle: 38
Character: 63
Ground: 28
Mission: 27
Space: 24
Card Side
Edit
Dark: 63
Neutral: 50
Light: 67
Card list
Edit
Beru Lars (A)
Blaster Barrage
Capture the Falcon
Contingency Plan
Dannik Jerriko (A)
Darth Vader (A)
Desperate Confrontation
Dianoga (A)
Disturbance in the Force
It's Not Over Yet
Elite Stormtrooper Squad
Figrin D'an (A)
Greedo (A)
Hold 'Em Off
Imperial Blockade
Imperial Navy Helmsman
Jawa Leader
Leia's Kiss
Luke Skywalker (B)
Luke Skywalker (A)
Luke's Speeder (A)
Luke's X-Wing (A)
Momaw Nadon (A)
No Escape
Obi-Wan Kenobi (E)
Obi-Wan's Prowess
Obi-Wan's Task
Our Only Hope
Owen Lars (A)
Plan of Attack
Princess Leia (A)
Protection of the Master
R5-D4 (A)
Rebel Crew Chief
Rebel Lieutenant
Regroup on Yavin
Starfighter's End
Stormtrooper TK-421
Strategy Session
Strike Me Down
Surprise Attack
Tantive IV (A)
Tarkin's Stench
Tiree (A)
URoRRuR'R'R (A)
Imperial Manipulation
Vader's Leadership
Wedge Antilles (A)
Yavin 4 Hangar Base
Astromech Assistance
Benefits of Training
C-3PO (C)
Commander Praji (A)
Darth Vader (B)
Death Star Plans
Death Star Scanning Technician
Death Star Superlaser Gunner
Death Star Turbolaser Gunner
Demonstration of Power
Devastator (A)
Error in Judgment
Fate of the Dragon
General Tagge (A)
Han's Courage
Imperial Navy Lieutenant
Insignificant Power
Into the Garbage Chute
Jawa
Jawa Collection Team
Jon Dutch Vander (A)
Learning the Force
Lieutenant Tanbris (A)
Luke Skywalker (C)
Luke's Warning
Mounted Stormtrooper
Obi-Wan Kenobi (F)
Princess Leia (B)
R2-D2 (C)
Rebel Blockade Runner
Rebel Control Officer
Rebel Control Post
Rebel Marine
Rebel Surrender
Rebel Trooper
Press the Advantage
Stabilize Deflectors
Stormtrooper Charge
Stormtrooper DV-692
Stormtrooper Squad Leader
Stormtrooper TK-119
Support in the Senate
Disrupt the Power System
Tatooine Speeder
Tusken Sharpshooter
Vader's Interference
Vader's TIE Advanced x1 (B)
Wuher (A)
Air Cover
Precise Blast
Stay Sharp
Darth Vader (C)
Death Star Cannon Tower
Death Star Guard Squad
Domesticated Bantha
Ground Support
Imperial Detention Block
Into Hiding
Jawa Squad
Jawa Supply Trip
Jump to Lightspeed
Luke Skywalker (D)
Luke's Repairs
Planetary Defense Turret
Nowhere to Run
Obi-Wan Kenobi (G)
Jedi Intervention
Obi-Wan's Plan
Penetrate the Shields
Preemptive Shot
Princess Leia (C)
Rebel Fighter Wing
Rebel Marine Squad
Rebel Pilot
Rebel Squad
Rescue
Slipping Through
SoruSuub V-35 Courier
Synchronized Assault
Stormtrooper Assault Team
Stormtrooper DV-523
Stormtrooper Patrol
Stormtrooper Squad
TIE Fighter DS-3-12
TIE Fighter DS-73-3
TIE Fighter DS-55-6
TIE Fighter DS-61-9
TIE Fighter Pilot
TIE Fighter Squad
Tusken Squad
Vader's Grip
Well-Aimed Shot
X-wing Red One
X-wing Red Three
X-wing Red Two
X-wing Attack Formation
Y-wing Gold Squadron
Card samples
Edit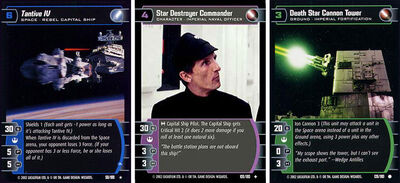 Bibliography
Edit
Notes and references
Edit
External links
Edit
Community content is available under
CC-BY-SA
unless otherwise noted.