"Ordinarily, Aargonar is an unimportant planet in and of itself."
―Anonymous
Aargonar was a dusty, desert-climate planet located in the Borderland Regions of the Mid Rim.
Description
Edit
Aargonar was an insignificant desert world with few population.[2] The terrain was reminiscent of Tatooine for Jedi Knight Anakin Skywalker, with rock arches and stone spires dotting the once watery-planet.[3] The planet had several moons, including Aargonar 3.[2]
The planet was known to house numerous Sarlacc.[2] It was also home to Hrumphs and Gouka dragons.[3]
During the Jedi Civil War, Aargonar was located within space controlled by Darth Revan's Sith Empire.[1]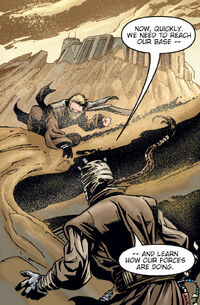 The world was located in space contested by the Galactic Republic and Confederacy of Independent Systems during the Clone Wars.[3] During the war, Mina Bonteri's husband went to Aargonar to set up a base, but died there during a battle with the Republic's clone troopers.[4] About a year after the First Battle of Geonosis, Aargonar was the site of a significant battle of the Clone Wars involving Jedi Master Ki-Adi-Mundi and Knights Bultar Swan, Anakin Skywalker and A'Sharad Hett.[3] Despite Skywalker's heroic actions, the Republic forces were overwhelmed and forced to evacuate the planet.[6]
During the Galactic Civil War, Aargonar's third moon acted as a Rebel Alliance base, but the Rebels were routed by the Galactic Empire around 0 ABY.[5]
During the Yuuzhan Vong War, Aargonar was conquered by the invaders. As of 137 ABY, Aargonar was located in the territories controlled by Darth Krayt's Galactic Empire.[1]
Behind the scenes
Edit
Labyrinth of Evil misspells this planet as Aagonar.
Appearances
Edit
Notes and references
Edit
Community content is available under
CC-BY-SA
unless otherwise noted.