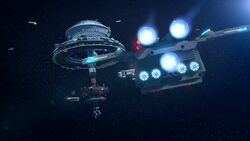 The Abrion system was a star system that was the location of the Wheel, a space station that was home of the Freemakers scavenging family. Freemaker Salvage and Repair was based in the Middle Ring of the Wheel.[1]
The Abrion system first appeared in the non-Canon 2016 Disney XD animated television series LEGO Star Wars: The Freemaker Adventures. It was first identified as the location of the Wheel space station in the one-minute LEGO video "Freemaker Salvage and Repair" on August 29, 2016.[1] While non-canon, the Freemaker Adventures was produced in conjunction with the Lucasfilm Story Group.[2] The Abrion Major system had previously appeared in the 2010 Star Wars Legends reference book The Essential Atlas.[3]
Community content is available under
CC-BY-SA
unless otherwise noted.