Line 63:
Line 63:
 

|aliases=

 

|aliases=

 

|modules=}}

 

|modules=}}

−

[[Mon Calamari]] [[Gender|male]] [[Aftab Ackbar]] utilized a '''star cruiser''' of the [[MC95 Star Cruiser]] model during the [[First Order-Resistance War|war]] between the [[First Order]] military regime and the [[Resistance]] in [[34 ABY]]. The [[Heavy cruiser|heavy]] [[Star Cruiser|star cruiser]] was the [[flagship]] of the [[Mon Cala fleet]] when the First Order arrived to [[Mission to Mon Cala|destroy]] the fleeing Resistance operatives and make an example of [[Mon Cala]]. Onboard the [[cruiser]], Ackbar ordered the Mon Cala fleet to enter [[hyperspace]] right then or lose the battle. Together with the rest of the fleet, the cruiser was instrumental in rebuilding the [[Resistance navy]].

+

[[Mon Calamari]] [[Gender|male]] [[Aftab Ackbar]] utilized '''MC95 Star Cruiser during the [[First Order-Resistance War|war]] between the [[First Order]] military regime and the [[Resistance]] in [[34 ABY]]. The [[Heavy cruiser|heavy]] [[Star Cruiser| ]] was the [[flagship]] of the [[Mon Cala fleet]] when the First Order arrived to [[Mission to Mon Cala|destroy]] the fleeing Resistance operatives and make an example of [[Mon Cala]]. Onboard the [[cruiser]], Ackbar ordered the Mon Cala fleet to enter [[hyperspace]] right then or lose the battle. Together with the rest of the fleet, the cruiser was instrumental in rebuilding the [[Resistance navy]].

 
 
 

==Description==

 

==Description==

−

A [[Heavy cruiser|heavy]]<ref name="Ships FOR" /> [[Star Cruiser|star cruiser]]<ref name="Ship ST" /> was an [[MC95 Star Cruiser]] model that was equipped with a [[hyperdrive]] and an [[engine]].<ref name="Allegiance 4" /> The [[cruiser]] also had at least 2 [[Hangar|docking bays]].<ref name="ROTR" />

+

A [[Heavy cruiser|heavy]]<ref name="Ships FOR" /> [[Star Cruiser]]<ref name="Ship ST" /> was an [[MC95 Star Cruiser]] model that was equipped with a [[hyperdrive]] and an [[engine]].<ref name="Allegiance 4" /> The [[cruiser]] also had at least 2 [[Hangar|docking bays]].<ref name="ROTR" />

 
 
 

==History==

 

==History==

 

{{Quote|We must hit the hyperdrive now or else this will be the shortest battle in the history of Mon Cala!|Ackbar ordering the fleet to escape from the First Order.|Allegiance 4}}

 

{{Quote|We must hit the hyperdrive now or else this will be the shortest battle in the history of Mon Cala!|Ackbar ordering the fleet to escape from the First Order.|Allegiance 4}}

−

The star cruiser used by Aftab,<ref name="Allegiance 4" /> the son of veteran [[Admiral]] [[Gial Ackbar]],<ref name="Allegiance 2">''[[Allegiance 2]]''</ref> was the flagship of a fleet of starships located on the planet, Mon Cala. The [[fleet]] served under rule of the [[Mon Cala monarchy]].<ref name="Allegiance 4" /> In [[34 ABY]] during the [[First Order-Resistance War]],<ref name="Date1">''[[Star Wars: Allegiance]]'' takes place between [[Star Wars: Galaxy's Edge|''Star Wars'': Galaxy's Edge]] and [[Star Wars: Episode VII The Force Awakens|''Star Wars'': Episode VII ''The Force Awakens'']]. ''[[The Star Wars Book]]'' places the [[Battle of Batuu]] from ''Star Wars: Galaxy's Edge'' in the same year as ''Star Wars'': Episode VII ''The Force Awakens'', which ''[[Star Wars: Galactic Atlas]]'' places in [[34 ABY]]. Therefore ''Star Wars: Allegiance'' and the [[Mission to Mon Cala]] takes place in 34 [[Galactic standard calendar|ABY]] as well.</ref> Ackbar's starship participated in an escape from the planet during the closing stages of a [[Mission to Mon Cala|mission]] on the planet by the [[Resistance]]. After the [[First Order]] arrived to punish the inhabitants of Mon Cala, for siding with the Resistance and giving them the starships needed to rebuild the [[Resistance navy]], Ackbar led a fleet of vessels from the planet on his cruiser. Noting that they had a short window of escape, on the MC95 Ackbar ordered the ships to immediately enter [[hyperspace]] or risk participating in the "shortest battle in the history of Mon Cala". In addition to the rest of the fleet, they joined the Resistance and its [[Resistance navy|navy]] and became an integral part of its rebuilding.<ref name="Allegiance 4" />

+

The used by Aftab,<ref name="Allegiance 4" /> the son of veteran [[Admiral]] [[Gial Ackbar]],<ref name="Allegiance 2">''[[Allegiance 2]]''</ref> was the flagship of a fleet of located on the planet, Mon Cala. The fleet served under rule of the [[Mon Cala monarchy]].<ref name="Allegiance 4" /> In [[34 ABY]] during the [[First Order-Resistance War]],<ref name="Date1">''[[Star Wars: Allegiance]]'' place between [[Star Wars: Galaxy's Edge|''Star Wars'': Galaxy's Edge]] and [[Star Wars: Episode VII The Force Awakens|''Star Wars'': Episode VII ''The Force Awakens'']]. ''[[The Star Wars Book]]'' places the [[Battle of Batuu]] from Galaxy's Edge in the same year as ''The Force Awakens'', which ''[[Star Wars: Galactic Atlas]]'' places in [[34 ABY]]. Therefore ''Allegiance'' the [[Mission to Mon Cala]] place in 34 [[ |ABY]].</ref> Ackbar's starship participated in an escape from the planet during the closing stages of a [[Mission to Mon Cala|mission]] on the planet by the [[Resistance]]. After the [[First Order]] arrived to punish the inhabitants of Mon Cala for siding with the Resistance and giving them the starships needed to rebuild the [[Resistance navy]], Ackbar led a fleet of vessels from the planet on his cruiser. Noting that they had a short window of escape, Ackbar ordered the ships to immediately enter [[hyperspace]] or risk participating in the "shortest battle in the history of Mon Cala. fleet joined the Resistance and its [[navy]] and became an integral part of its rebuilding.<ref name="Allegiance 4" />

 
 
 

==Behind the scenes==

 

==Behind the scenes==

 

[[File:AftabsFlagship_misdrawn.png|205px|thumb|right|Ackbar's starship misdrawn as an MC85 Star Cruiser]]

 

[[File:AftabsFlagship_misdrawn.png|205px|thumb|right|Ackbar's starship misdrawn as an MC85 Star Cruiser]]

−

Ackbar's star cruiser appeared in the [[Allegiance 4|fourth issue]] of [[Marvel Comics]]' ''[[Star Wars: Allegiance]]'' mini-series. The comic was written by [[Ethan Sacks]], illustrated by [[Luke Ross]],<ref name="Allegiance 4" /> and published on [[October 30]], [[2019]].<ref name="Marvel">{{Marvel|comics/issue/76705/journey_to_star_wars_the_rise_of_skywalker_-_allegiance_2019_4|Journey to Star Wars: The Rise of Skywalker - Allegiance (2019) #4|archivedate=20191102221811}}</ref> It was mistakenly drawn as an [[MC85 Star Cruiser]] in one panel.<ref name="Allegiance 4" />

+

appeared in the [[Allegiance 4|fourth issue]] of [[Marvel Comics]]' ''[[Star Wars: Allegiance]]'' mini-series. The comic was written by [[Ethan Sacks]], illustrated by [[Luke Ross]],<ref name="Allegiance 4" /> and published on [[October 30]], [[2019]].<ref name="Marvel">{{Marvel|comics/issue/76705/journey_to_star_wars_the_rise_of_skywalker_-_allegiance_2019_4|Journey to Star Wars: The Rise of Skywalker - Allegiance (2019) #4|archivedate=20191102221811}}</ref> was as an [[MC85 Star Cruiser]].<ref name="Allegiance 4" />

 
 
 

==Appearances==

 

==Appearances==
---
Revision as of 19:57, 21 November 2021
The Mon Calamari male Aftab Ackbar utilized an MC95 Star Cruiser during the war between the First Order military regime and the Resistance in 34 ABY. The heavy Star Cruiser was the flagship of the Mon Cala fleet when the First Order arrived to destroy the fleeing Resistance operatives and make an example of the planet Mon Cala. Onboard the cruiser, Ackbar ordered the Mon Cala fleet to enter hyperspace right then or lose the battle. Together with the rest of the fleet, the cruiser was instrumental in rebuilding the Resistance navy.
Description
A heavy[2] Star Cruiser[3] was an MC95 Star Cruiser model that was equipped with a hyperdrive and an engine.[1] The cruiser also had at least 2 docking bays.[4]
History
"We must hit the hyperdrive now or else this will be the shortest battle in the history of Mon Cala!"
―Ackbar ordering the fleet to escape from the First Order.
The Star Cruiser used by Aftab,[1] the son of veteran Admiral Gial Ackbar,[5] was the flagship of a fleet of starships located on the planet, Mon Cala. The fleet served under rule of the Mon Cala monarchy.[1] In 34 ABY, during the First Order-Resistance War,[6] Ackbar's starship participated in an escape from the planet during the closing stages of a mission on the planet by the Resistance. After the First Order arrived to punish the inhabitants of Mon Cala for siding with the Resistance and giving them the starships needed to rebuild the Resistance navy, Ackbar led a fleet of vessels from the planet on his cruiser. Noting that they had a short window of escape, Ackbar ordered the ships to immediately enter hyperspace or risk participating in the "shortest battle in the history of Mon Cala." The fleet joined the Resistance and its navy and became an integral part of its rebuilding.[1]
Behind the scenes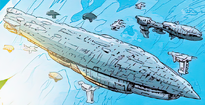 The MC95 Star Cruiser appeared in the fourth issue of Marvel Comics' Star Wars: Allegiance mini-series. The comic was written by Ethan Sacks, illustrated by Luke Ross,[1] and published on October 30, 2019.[7] In one panel, the ship was erroneously depicted as an MC85 Star Cruiser.[1]
Appearances
Notes and references
↑ 3.0 3.1 Every Ship in the Star Wars Sequel Trilogy | Star Wars By the Numbers on the official Star Wars Kids YouTube channel (backup link)
↑ The events of Star Wars: Allegiance take place between Star Wars: Galaxy's Edge and Star Wars: Episode VII The Force Awakens. The Star Wars Book places the Battle of Batuu from Galaxy's Edge in the same year as The Force Awakens, which Star Wars: Galactic Atlas places in 34 ABY. Therefore, Allegiance's events, which include the Mission to Mon Cala, take place in 34 ABY.