Ahsoka Tano, a Jedi padawan under the tutelage of Master Anakin Skywalker, piloted a red Delta-7B Aethersprite-class light interceptor with white markings for the Galactic Republic during the Clone Wars.
Description
Edit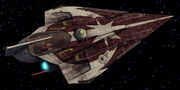 The Delta-7B Aethersprite-class Jedi starfighter used by Anakin Skywalker's padawan, Ahsoka Tano, during the Clone Wars was red with a white emblem of the Jedi Order covering the entire hull of the ship. The ship was armed with dual laser cannons, and carried an astromech droid for astrogation and on-board repair.[1][2] The ship was modified to enhance systems used during starfighter combat.[1]
Ahsoka flew as Blue Leader with R7-A7 in her Delta-7B during the Battle of Ryloth in the years of the Clone Wars, and later helped her master fight Hyena-class droid bombers above Lessu while Mace Windu and Cham Syndulla fought to enter the city.[2]
Ahsoka later used the fighter to break through the Separatist blockade of Umbara while Generals Anakin Skywalker and Obi-Wan Kenobi invaded the planet.
Behind the scenes
Edit
WizKids Games, before its operations were discontinued by The Topps Company, Inc., provided a sneak peak at Ahsoka's Delta-7B as a game piece in an expansion of the Star Wars PocketModel TCG game before it debuted in Storm Over Ryloth, the 19th episode in Season One Star Wars: The Clone Wars animated television TV series.[1][2]
A LEGO set called "Ahsoka's Starfighter and Vulture Droid" was also produced that featured Ahsoka's starfighter—along with a Vulture droid—in late December 2008, months before its television appearance.
Ahsoka's Delta-7B shares hull graphics identical in all but color with Saesee Tiin's Delta-7B. This is similar to the case in which Adi Gallia's Delta-7B and Plo Koon's Blade of Dorin feature like graphics with different color schemes, and suggests that the production team of Star Wars: The Clone Wars television series are reusing graphics already produced.[2][3]
Appearances
Edit
Notes and references
Edit
Community content is available under
CC-BY-SA
unless otherwise noted.