Jurassic World: Dominion Dominates Fandom Wikis - The Loop
Play Sound
"I watched it pretty young, and I don't actually remember when they broke the news to me that [it] was me in the movie. I must have been told later on in my life and been like, "Oh, that's pretty cool." It's not a fact I really go openly share with people. My close friends know, and if people do the research [and] they search my name, they can find it. I don't remember if I got a credit."
―Aidan Barton
Aidan Barton portrayed Luke Skywalker and Leia Organa as infants in Star Wars: Episode III Revenge of the Sith. Though uncredited, he is given special thanks in the film's end credits.[2] He also appeared as an extra in the 2017 film Pirates of the Caribbean: Dead Men Tell No Tales.[1]
Barton is the son of the film's editor, Roger Barton. When it was time to shoot close-ups of the infant Luke and Leia, the older Barton revealed that he had just had a baby and suggested that they used his son for the scenes. According to the younger Barton, they only used him for close-ups in the scenes where Luke and Leia are handed off to their new families on Tatooine and Alderaan – the babies in the scenes where Padmé Amidala gives birth on Polis Massa, were not him. For Barton's actual scenes, his mother brought him to the set and doubled as the people holding the babies; except for the moments where the babies are handed off, she was the only one who actually held him.[1]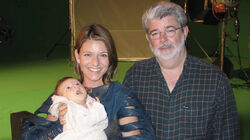 In 2019, original Luke Skywalker actor Mark Hamill tweeted that Barton played both Luke and Leia,[3] but accidentally posted pictures of someone else, leading to Barton's mother sending an email to Hamill's manager to set the record straight,[1] and Hamill making a new post to correct the error.[1][4] After the incident, Barton and his family were going to have lunch with Hamill because Hamill lived close-by, but the day they were supposed to meet, the COVID-19 lockdown hit and the plans were scrapped.[1]
Filmography
[
]
Sources
[
]
Notes and references
[
]
↑ 1.0 1.1 1.2 1.3 1.4 1.5 1.6 Harbet, Xandra: Revenge Of The Sith's Baby Luke And Leia Actor Aidan Barton Talks Star Wars And Mark Hamill - Exclusive Interview (April 11, 2022). looper.com. Looper. Archived from the original on April 18, 2022.
↑ Star Wars Episode III: Revenge of the Sith on StarWars.com (content now obsolete; backup link)
↑ 3.0 3.1 Mark Hamill (@markhamill) on Twitter: "FUN FACTS: A) Aidan Barton played both Luke AND Leia in #StarWarsEpisodeIIIRevengeOfTheSith. B) He is the son of that film's editor, Roger Barton. C) I have never met him. D) He is now in high school. E) YIKES! 😵" (backup link)
↑ Mark Hamill (@markhamill) on Twitter: "WHEN FUN FACTS GO WRONG: A) Aidan Barton played both Luke AND Leia in #EPIII B) He is the son of that film's editor, Roger Barton. C) I have never met him D) He is now in high school! E) 3 pics I posted were NOT HIM. His mom kindly sent me these photos of the #ActualAidan-#MyBad" (backup link)