Jurassic World: Dominion Dominates Fandom Wikis - The Loop
Play Sound
"I just can't shake the sense that there's something more to these peace talks than the Jedi Council is aware of…"
The Alderaan peace conference was a meeting between representatives from the Galactic Republic and reconstituted Sith Empire to discuss an end to the Great Galactic War. The war began after the return of the Empire to known space in 3681 BBY and dragged on for the following three decades. By 3653 BBY, the Sith Emperor sought a quick end to the conflict and directed his Dark Council to extend an offer of peace to the Republic's senate. The Senate, desperate for a reprieve from the devastating war, accepted. Plans were made for a summit to be held on the Core World of Alderaan.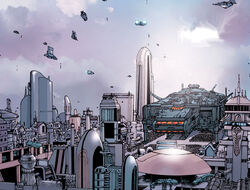 The Sith had no intention of allowing the war to come to a peaceful conclusion however, and so orchestrated the Sacking of Coruscant to take place in conjunction with the peace conference. While the Sith delegation, led by the Sith Lord Darth Baras, met with the Republic delegation led by Cerean Senator Paran Am-Ris, Darth Angral of the Sith Empire led the attack on the Republic's capital world of Coruscant. The attack ended with Coruscant being held hostage by the Empire, giving Lord Baras the leverage to take control of the negotiations on Alderaan. The Republic delegation was forced to sign the Treaty of Coruscant, which brought an end to the war, but also forced the Republic to withdraw all its forces and rescind support from long-time allies.
Appearances
[
]
Sources
[
]
Notes and references
[
]