Doctor Strange in The Multiverse o Madness - The Loop
Play Sound
"…the algae allows us to breathe oxygen beneath the surface for several minutes."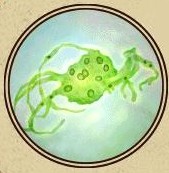 Algae were a group of organisms that typically grew underwater and liked to cover the surfaces of objects. Once thought to be plants, they were classified separately as far back as 32 BBY.[2] Algae could also be airborne,[3] living on water droplets and chemical vapors floating in the atmosphere.[4] Additionally, algae grew on objects out of water, sometimes dangling from structures in strands up to several hundred meters in length and creating virtual "forests" of algae.[5]
Colors
[
]
"Those colors are caused by microspheres of airborne algae."
―Jacen Solo, describing Bespin's clouds
Algae ranged in colors across the spectrum, including blue,[6] brown,[7] green,[8] orange,[3] pink,[4] and purple,[9] and was sometimes luminescent.[10]
Uses
[
]
"The life energy distilled from concentrated banks of algae and other primitive life-forms can prevent the decay common to previous soul-captures."
While it was preyed upon for sustenance by some plants and animals,[5] some species of algae thrived in a commensal relation with other species, including the Melodies of Yavin 13, to which the algae provided life-sustaining oxygen.[12] Furthermore, varieties such as the bestrum algae from Baralou were broken down and processed into foods for consumption,[13] and dried algae extracts were used to create algae sugar for use in alcohol fermentation.[14] Algae-bread was especially favored by Herglics, who also made algae ice cream.[15]
Sometime before the P'w'eck Emancipation Movement in 28 ABY, the process of Ssi-ruuk entechment was improved upon by harvesting the life energy emitted by algae to prevent the decay of captured souls.[16]
A more advanced form of algae could be found in the Cygnus B system. It contained a planet with oceans inhabited by giant sapient algae beds.[17] Similarly, the planet Paulking XIV of the Corporate Sector had oceans filled with talking algae.[18]
Types of algae
[
]
Behind the scenes
[
]
Algae, a photosynthetic organism in real life, was introduced into Star Wars lore by author John Chesterman in his 1979 article "Cantina Communications," from Star Wars Official Poster Monthly 16.
Appearances
[
]
Sources
[
]
Notes and references
[
]
External links
[
]