The All Terrain Reconnaissance Transport (AT-RT), also known as the All Terrain Recon Transport, or the Republic scout walker, was a model of recon walker used mainly during the Clone Wars by Advanced Recon Force Scout Troopers. It was the precursor to both the All Terrain Defense Pod and the All Terrain Scout Transport. During the Galactic Civil War, these walkers were adopted by both the Galactic Empire, who used Scout troopers to man the vehicles,[6] and the Alliance to Restore the Republic, who upgraded them to compete with the advancements of the Empire.[7]
The AT-RT's were usually used for a variety of missions including ground support, police support, civil defense, and post-battle cleanup efforts. They occasionally took up position on the front lines of ground battles when difficult terrain prevented the use of larger vehicles.[2]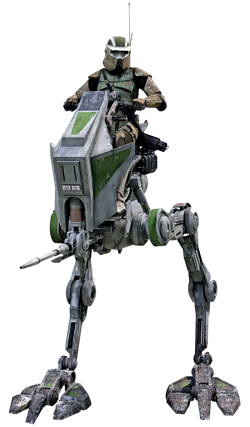 AT-RT walkers were used by the Grand Army of the Republic throughout the war. During the Battle of Christophsis, clones rode AT-RTs to fight off Whorm Loathsom's droid army.[10] During the Battle of Ryloth, Lightning Squadron rode AT-RTs alongside the Twi'lek Resistance to liberate the capital city of Lessu.[11] During the Battle of Umbara, Republic gunships deployed the walkers, which were used by the 501st Legion to combat the Umbaran Militia.[12] During the Battle of Kiros, 501st and 212th Attack Battalion clones rode throughout the city to attack the droids, and Anakin Skywalker and Ahsoka Tano rode them to chase after Zygerrian slaver Darts D'Nar.[13] Near the end of the Clone Wars, 41st Elite Corps clone troopers used them at the Battle of Kashyyyk.[2]
A group of scout troopers utilized at least two AT-RTs on Mygeeto, where they battled a Rebel group known as the Plasma Devils.[6]
The Alliance to Restore the Republic, particularly the Tatooine rebel cell, used modified AT-RTs.[14]
The Alliance to Restore the Republic also modified some AT-RT's to have a chin-mounted flamethrower, as well as modifying others to have a chin-mounted Z-6 rotary blaster cannon.[4]
In 34 ABY, the First Order also made use of the walkers. They were part of the deployment on Vodran when J-Squadron was captured.[8]
↑ 2.00 2.01 2.02 2.03 2.04 2.05 2.06 2.07 2.08 2.09 2.10 2.11  AT-RT walker in the Encyclopedia (content now obsolete; backup link)
Community content is available under
CC-BY-SA
unless otherwise noted.