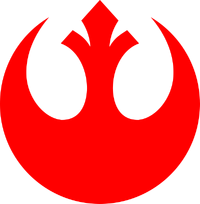 "We need a flag to rally behind. A symbol. A symbol of hope."
The Alliance Starbird, also known as the Phoenix was the insignia of the Alliance to Restore the Republic. It adorned the flight helmets of a number of Rebel pilots during the Galactic Civil War. It was based on the Marek family crest.
History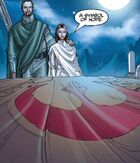 The Rebels adopted the symbol from the family crest of the Marek family in honor to Galen Marek, Darth Vader's former apprentice, who sacrificed himself protecting the three founders of the Alliance.[1] What's more, the Starbird is very similar to the emblem of the Old Jedi Order, if somewhat modified version.
Often described as a rising phoenix, the Starbird represented the Alliance's goal of setting the stage for the Galactic Republic to rise up from the ashes of the Galactic Empire that it swore to topple. The Starbird most often appeared in bright red or blue but was also sometimes displayed in yellow, black, or gray.
When the Alliance became the New Republic, the Starbird was retained as the central image of the new government's insignia, as well as of the New Jedi Order.
Adar Tallon's family crest resembled an altered Starbird symbol.[2]
Related symbols
Behind the scenes
Older sources mentioned it was taken from the seal of the Old Republic itself, but as none of the different seals of the Old Republic looked like the Rebellion's crest, this information seems now deemed non-canon. However, a panel seen in Star Wars Republic 78: Loyalties has shown a dark starbird painted on the bow of a Dreadnaught-class heavy cruiser. This might indicate the starbird was somehow in use of the Republic during its late days[9]; perhaps the cruiser was associated somehow with the Marek family.
Appearances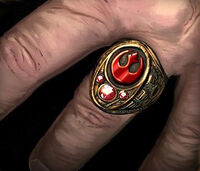 Sources
Notes and references