"One of the most exciting and ambitious new series we have coming to Disney+ in 2022 is Andor, a tense nail-biting spy thriller in the Star Wars universe created by Tony Gilroy."
―Kathleen Kennedy announces the title of the series during Investor Day 2020
Andor is an upcoming television series currently being developed by Lucasfilm. It is set to air on Disney's online streaming service, Disney+. The series is a spy thriller starring Diego Luna, reprising his role as Cassian Andor from the film Rogue One: A Star Wars Story.
Official description
[
]
The Andor series will explore a new perspective from the Star Wars galaxy, focusing on Cassian Andor's journey to discover the difference he can make. The series brings forward the tale of the burgeoning rebellion against the Empire and how people and planets became involved. It's an era filled with danger, deception and intrigue where Cassian will embark on the path that is destined to turn him into a rebel hero.[5]
Production
[
]
Development
[
]
"Going back to the Star Wars universe is very special for me. I have so many memories of the great work we did together and the relationships I made throughout the journey. We have a fantastic adventure ahead of us, and this new exciting format will give us the chance to explore this character more deeply."
―Diego Luna, on reprising his role
Talks for a television series focused on Cassian Jeron Andor, Diego Luna's character from the 2016 Star Wars Anthology film Rogue One: A Star Wars Story, began before the Anthology film was released, though Luna had doubts that it would happen.[12] In February 2018, Disney CEO Bob Iger revealed that "a few" Star Wars live-action series were in development for Disney's streaming service.[13] The series was officially announced by Iger during a Disney quarterly earnings call on November 8, 2018.[1]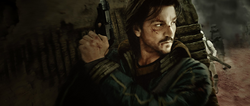 On November 30, it was reported that The Americans executive producer Stephen Schiff was tapped to serve as a showrunner while Moana writer Jared Bush was revealed to have originated the project by writing a pilot script and a series bible.[14] According to Production Weekly, the series was scheduled to begin production in October 2019.[15] On July 11, 2019, Rick Famuyiwa was reported to be in talks to direct an undisclosed amount of episodes for the series, with filming scheduled to begin on October 7.[16] On October 15, 2019, Variety reported that Rogue One co-writer Tony Gilroy would be writing the pilot for the series in addition to directing multiple episodes.[17]
Filming
[
]

On December 3, 2020,[18] Diego Luna confirmed that the series had started filming in London.[19] The title of Andor, as well as behind the scenes footage of the filming of the series, were unveiled on December 10, 2020 at a Disney investors meeting. Filming began in late November of 2020.[20][21] Although Alan Tudyk was initially announced to play K-2SO in the series,[7] he later clarified in January of 2021 that while production was underway, he was not going to appear in the first season. He did, however, expect to be brought into the fold in later seasons.[22]
The showrunners opted for practical environments, with scenes being shot at Pinewood Studios and on location. One scene was shot at Pitlochry, Scotland.[23] Filming wrapped in September 2021.[24]
Marketing
[
]
On May 26, 2022, Lucasfilm released a teaser trailer for the Andor series at Star Wars Celebration Anaheim 2022. The studio also announced that the series would premiere on Disney+ on August 31, 2022.[25][26]
On August 1, Lucasfilm released an official trailer and announced that the release date had been pushed back to September 21, 2022.[3]
Seasons
[
]
Media
[
]
Credits
[
]
Sources
[
]
Notes and references
[
]
↑ 2.0 2.1 2.2 2.3 SWCA 2022: 20 Highlights from Lucasfilm's Studio Showcase on StarWars.com (backup link)
↑ 3.0 3.1 3.2 3.3 3.4 Andor | Official Trailer | Disney+ on the official Star Wars YouTube channel (backup link)
↑ 4.00 4.01 4.02 4.03 4.04 4.05 4.06 4.07 4.08 4.09 4.10 4.11 4.12 New Casting Announced for Cassian Andor Series on StarWars.com (backup link)
↑ 5.00 5.01 5.02 5.03 5.04 5.05 5.06 5.07 5.08 5.09 5.10 5.11 5.12 5.13 5.14 Andor Media Kit on Disney.com (backup link)
↑ 8.0 8.1 Burlingame, Jon: 'Succession' Composer Nicholas Britell Enters the 'Star Wars' Universe With Music for 'Andor' (EXCLUSIVE) (May 27, 2022) on Variety (archived from the original on May 28, 2022)
↑ New Casting Announced for Cassian Andor Series on StarWars.com (backup link) states that Andor takes place five years before the events of Rogue One: A Star Wars Story, which is dated to 0 BBY by Star Wars: Galactic Atlas. Therefore, Andor will take place in 5 BBY.
↑ SWCA 2022: 20 Highlights from Lucasfilm's Studio Showcase on StarWars.com (backup link) states the second season of Andor will take place over the next four years with the final shot taking the place shortly before Rogue One: A Star Wars Story. Therefore, according to Star Wars: Galactic Atlas, Andor will end in 0 BBY.
↑ Diego Luna Knows How to Play an Authentic Villain and Raise a Future Jedi at the Internet Movie Database (backup link)
↑ Goldberg, Lesley; Couch Aaron: 'Star Wars' TV Series: Disney Developing "a Few" for Its Streaming Service (February 6, 2018) on The Hollywood Reporter (archived from the original on March 7, 2020)
↑ Andreeva, Nellie: Disney+ 'Star Wars' Series Starring Diego Luna Taps Stephen Schiff As Showrunner (November 30, 2018) on Deadline (archived from the original on April 3, 2020)
↑ Dunk, Steve: Rogue One Series Has A Filming Date (December 31, 2018) on TheForce.net (archived from the original on July 29, 2019)
↑ Fisher, Jacob: Rick Famuyiwa In Talks To Direct Episodes Of Cassian Andor Series (EXCLUSIVE) (July 11, 2019) on DiscussingFilm (archived from the original on April 7, 2020)
↑ Otterson, Joe: 'Rogue One' Writer Tony Gilroy Joins Cassian Andor 'Star Wars' Series at Disney Plus (EXCLUSIVE) (October 15, 2019) on Variety (archived from the original on April 3, 2020)
↑ Jimmy Kimmel Live Schedule for the Week of 11/30/2020 on American Broadcasting Company (archived from the original on December 4, 2020)
↑ Diego Luna on Star Wars Spin-Off, His Father Hating Christmas & Recreating The Princess Bride on the Jimmy Kimmel Live YouTube channel (backup link)
↑ Sizzle Reel | Andor | Disney+ on the official Star Wars YouTube channel (backup link)
↑ Taylor, Drew: 'Rogue One' Disney+ Series Won't Include K-2SO, Alan Tudyk Confirms — At Least At First (January 20, 2021) on Collider (archived from the original on January 21, 2021)
↑ Andor Doesn't Use Star Wars' Volume Video Wall: 'We're Old-School,' Says Tony Gilroy — Exclusive Image on Empire (archived from the original on August 1, 2022)
↑ Cordero, Rosy: Diego Luna Says 'Star Wars: Andor' Has Finished Shooting, And To Expect "Familiar Faces" (September 27, 2021) on Deadline (archived from the original on September 27, 2021)
↑ 26.0 26.1 26.2 26.3 26.4 Andor | Teaser Trailer | Disney+ on the official Star Wars YouTube channel (backup link)
↑ Star Wars (@starwars) on Twitter: "This is what revolution looks like. Watch #Andor, a Star Wars Original Series, streaming only on @DisneyPlus September 21." (backup link)
↑ "Star Wars: Andor". SFX Magazine. Issue 356, SFX Magazine, September 2022. ISSN 9771358595111. "Bix Caleen (Adria Arjona) does some Lara Crofting"
↑ 30.0 30.1 ANDOR Production Brief V3 FINAL 8-04-22 (August 4, 2022) on Getty Images (archived from the original)
↑ Hoey, John: 'Game of Thrones' Concept Artist Kieran Belshaw Reveals He Is Working on the Disney+ Cassian Andor Series (June 12, 2019) on Star Wars News Net (archived from the original on December 29, 2019)