Jurassic World: Dominion Dominates Fandom Wikis - The Loop
Play Sound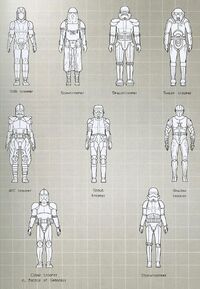 "Before the Battle of Naboo, we wore blast armor as an indulgence. Now we consider it a necessity."
Armor was a protective covering worn mainly by militants. Some examples of armor are Mandalorian armor, Sith battle suits, and light battle suits. Most armor would stop a standard blaster bolt, although only advanced, heavy battle armor could withstand a heavy cannon bolt. Specialized weapons (called disruptors) could punch through armor. The term "armor" could also refer to the armored plating of a vehicle or starship.
Overview
[
]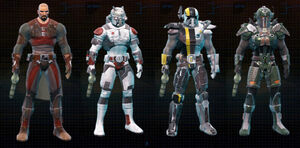 Armor was generally divided into three classes: light armor, medium armor, and heavy armor. Light armor usually came in the form of woven cloth or thin plastics. Medium armor, by far the most common, was made up of small ceramic or metal plates. Heavy armor was designed for front-line combat, and is usually fully enclosed.
Most cultures and races used armor for forms of armed conflict. Some armor was implanted with cortosis and made especially for battle with lightsabers. Mandalorian armor was some of the best armor in the galaxy, notably the Neo-Crusader armor used during the Mandalorian Wars.
Usually, armor was much more restrictive than regular clothing. Most Jedi did not use armor for this reason. Even though they did not wear armor, their robes had underlays for better protection. Armor was also used to show either rank or what type of soldier the wearer was, such as in the Grand Army of the Republic.
The Golan Arms DF.9 anti-infantry battery was enclosed by proton-shielded armor.[2]
During the Yuuzhan Vong War, Yuuzhan Vong warriors wore Vonduun crab armor, which had been created from bioengineering Vonduun crabs and was still alive.
Appearances
[
]
Non-canon appearances
[
]
Sources
[
]
Star Wars Blueprints (Picture only)
Star Wars Word Puzzles (Picture only)
"Special Ops: Drop Points" – Star Wars Adventure Journal 14 ("Doom Slayer" capsule)
"Even More Aliens!" on Wizards.com (original article link, content now obsolete; backup link)
1996 Topps Star Wars: Shadows of the Empire (Card: Battle Over Coruscant: Part I) (backup link) (Picture only)
"Vilmarh Grahrk: A Devil of a Smuggler" on Wizards.com (original article link, content now obsolete; backup link)
"Kyle Katarn, Jedi Outcast" on Wizards.com (original article link, content now obsolete; backup link)
"Arms & Equipment Guide Extras!" on Wizards.com (original article link, content now obsolete; backup link)
"Anakin's Living Ship" on Wizards.com (original article link, content now obsolete; backup link)
"Darth Malak" on Wizards.com (original article link, content now obsolete; backup link)
"Cydon Prax" on Wizards.com (original article link, content now obsolete; backup link)
"Boba Fett (NJO Era)" on Wizards.com (original article link, content now obsolete; backup link)
"Republic Fighter Tank" on Wizards.com (original article link, content now obsolete; backup link)
"The Imperial Backbone" on Wizards.com (original article link, content now obsolete; backup link)
"Furry and Fury" on Wizards.com (original article link, content now obsolete; backup link)
"Fringe Benefits" on Wizards.com (original article link, content now obsolete; backup link)
"We Don't Need That Scum" on Wizards.com (original article link, content now obsolete; backup link)
"Soldiers of Fortune" on Wizards.com (original article link, content now obsolete; backup link)
"Heroes of Revenge of the Sith" on Wizards.com (original article link, content now obsolete; backup link)
"Alliance and Empire Preview 4" on Wizards.com (original article link, content now obsolete; backup link)
Star Wars Trading Card Game – The Empire Strikes Back (TCG) (Card: Armor Plating) (backup link not verified!)
"Yavin: The Big Red One" on Wizards.com (original article link, content now obsolete; backup link) (Vignette)
"Planet Hoppers: Skako" on Wizards.com (original article link, content now obsolete; backup link)
"Message to Spacers 7" on Wizards.com (original article link, content now obsolete; backup link)
"Message to Spacers 8" on Wizards.com (original article link, content now obsolete; backup link)
"Message to Spacers 9" on Wizards.com (original article link, content now obsolete; backup link)
"Message to Spacers 10" on Wizards.com (original article link, content now obsolete; backup link)
Star Wars: Force Collection (Card: Sandtrooper (★))
Star Wars: Force Collection (Card: Stormtrooper (★))
Star Wars: Force Collection (Card: AT-AT Pilot)
Star Wars: Force Collection (Card: Clone Trooper)
Star Wars: Force Collection (Card: Commander Ponds)
Star Wars: Force Collection (Card: Darth Vader (★★★))
Star Wars: Force Collection (Card: Droideka (★★★))
Star Wars: Force Collection (Card: General Grievous)
Star Wars: Force Collection (Card: Jango Fett (★★★))
Star Wars: Force Collection (Card: Sandtrooper (★★★))
Star Wars: Force Collection (Card: Scout Trooper 74-Z Speeder Bike)
Star Wars: Force Collection (Card: MagnaGuard (★★★★))
Bo-Katan in the Encyclopedia (content now obsolete; backup link)
Clone Commander Cody in the Encyclopedia (content now obsolete; backup link)
Clone Commander Jet in the Encyclopedia (content now obsolete; backup link)
Death Watch in the Encyclopedia (content now obsolete; backup link)
HH-87 Starhopper in the Encyclopedia (content now obsolete; backup link)
Hydroid Medusa in the Encyclopedia (content now obsolete; backup link)
MTT in the Encyclopedia (content now obsolete; backup link)
Pirate Speeder Tank in the Encyclopedia (content now obsolete; backup link)
Republic attack cruiser in the Encyclopedia (content now obsolete; backup link)
Republic frigate in the Encyclopedia (content now obsolete; backup link)
Senate Guard in the Encyclopedia (content now obsolete; backup link)
sniper droid in the Encyclopedia (content now obsolete; backup link)
Stormtroopers in the Encyclopedia (content now obsolete; backup link)
super battle droid in the Encyclopedia (content now obsolete; backup link)
Umbaran hover tank in the Encyclopedia (content now obsolete; backup link)
Umbaran MHC in the Encyclopedia (content now obsolete; backup link)
A Note from the Producer on The Old Republic

'

s official website (backup link) (Picture only)
May the 4th Hits the Cartel Market: Final Week on The Old Republic

'

s official website (backup link) (Picture only)
Cartel Market Specials: Week of May 29, 2017 on The Old Republic

'

s official website (backup link) (Picture only)
Star Wars™: The Old Republic™ - Road Map 2017 on The Old Republic

'

s official website (backup link) (Picture only)
Celebrate EA Play to Give in the Galactic Defender Event on The Old Republic

'

s official website (backup link) (Picture only)
Cartel Market Specials: Week of June 19, 2017 on The Old Republic

'

s official website (backup link) (Picture only)
'Sisters of Carnage' Update: Now Live on The Old Republic

'

s official website (backup link) (Picture only)
Gain the edge with the Armed Resistance Cartel Pack! on The Old Republic

'

s official website (backup link)
Taking on Operations on The Old Republic

'

s official website (backup link) (Picture only)
Precious Cargo Pack: Now Live on the Cartel Market on The Old Republic

'

s official website (backup link) (Picture only)
Star Wars™: The Old Republic™ - Fall Roadmap 2017 on The Old Republic

'

s official website (backup link) (Picture only)
Singularity Pack: Now Live on the Cartel Market on The Old Republic

'

s official website (backup link)
Cartel Market Specials: Week of October 17, 2017 on The Old Republic

'

s official website (backup link)
The Impact of KOTOR on SWTOR on The Old Republic

'

s official website (backup link) (Picture only)
Cartel Market Specials: Week of November 8, 2017 on The Old Republic

'

s official website (backup link)
Cartel Market Specials: Week of November 13, 2017 on The Old Republic

'

s official website (backup link)
It's Galactic Sales Week in the Cartel Market! on The Old Republic

'

s official website (backup link) (Picture only)
The Master's Datacron on The Old Republic

'

s official website (backup link) (Picture only)
Get Your Own Star Wars™: Squadrons Inspired Mount! on The Old Republic

'

s official website (backup link)
Notes and references
[
]