"It's all so abstract. It's why guys like Tagge are fine with sending armies to their death, while they order their troopers to take me out of sight to put a blast through my chest."
―Chelli Lona Aphra, to a stormtrooper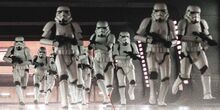 An army was a faction of troops and soldiers who were dedicated to a central cause. Major armies throughout galactic history included the Gungan Grand Army, the Trade Federation Droid Army,[1] the Grand Army of the Republic, the Separatist Droid Army,[2] the Imperial Army, the Alliance Army, the New Republic army,[3] the First Order army, the Resistance army,[4] and the Sith Eternal army.[5]
In order to invade a planet, a group could organize an invasion army and use landing craft to move them to the surface.[1]
Community content is available under
CC-BY-SA
unless otherwise noted.