The Arrowhead was a starship built by Rowan Freemaker, who believed that it could turn the tide of the Galactic Civil War. Prior to the Battle of Endor, Rowan, his siblings Zander and Kordi, and their B1 battle droid Roger undertook a quest to obtain the various parts needed to build the Arrowhead. After being built on Jakku, the Arrowhead was destroyed during a skirmish over Shantipole but was later partially rebuilt just in time for the Battle of Endor.
Description
Edit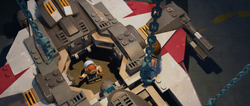 The Arrowhead was an arrowhead–shaped starship. It was equipped with various accessories including a pair of embersteel blades, a Farium fusion conduit, a proton suspension housing, an energy matrix activator, and a large kyber crystal.[9] The ship's embersteel blades could cut through just about anything[3] and had a pair of blaster cannons on either side.[9]
Following the mission to Tibalt, Rowan Freemaker experienced a Force vision of himself building the Arrowhead.[1] Rowan later related his vision to the Mon Calamari Rebel Alliance starship builder Quarrie but was unable to accurately describe the ship. To teach Rowan a sense of style and craftsmanship, Quarrie brought Rowan and the B1 battle droid Roger to the ancient Force Builders city of Aliston Nor. After climbing to the top of the Tower of Aliston Nor, Rowan experienced another Force vision of the Arrowhead. After escaping an attack by the Imperial hunter droid M-OC, Rowan assembled a model of the Arrowhead. Quarrie estimated that they needed several items including embersteel blades, a Farium fusion conduit, a proton suspension housing, an energy matrix activator, and a bantha–sized kyber crystal. While Rowan's older siblings Zander and Kordi Freemaker were daunted, Rowan remained optimistic.[9]
Under the leadership of Kordi, the Freemakers then undertook a mission to Mygeeto to purchase a Theta-class H-2 executive shuttle for its embersteel wings. Despite running into entanglements with the Hutt crime lord Graballa, the Freemakers managed to obtain the shuttle. Its embersteel wings were then melted and forged into frontal blades.[3] While undertaking a mission to rescue the rebel agent Bren Derlin, the Freemakers enlisted the Weequay pirate Hondo Ohnaka's help in obtaining a proton suspension housing from a wrecked Corellian Defender on the acidic world of Taul. Despite Hondo stealing their starship the StarScavenger and being attacked by M-OC, the Freemakers managed to escape offworld with the proton suspension housing with the help of Roger, who subdued Hondo.[10]
Behind the scenes
Edit
The Arrowhead forms an important element of the plot of the second season of Bill Motz and Bob Roth's LEGO Star Wars: The Freemaker Adventures. The starship was designed by Lucasfilm concept artist Ryan Church, who had previously worked on the Prequel trilogy. A LEGO set of the Arrowhead was also produced to promote the TV series.[11]
Appearances
Edit
Notes and references
Edit
↑ 2.00 2.01 2.02 2.03 2.04 2.05 2.06 2.07 2.08 2.09 2.10 LEGO Star Wars: The Freemaker Adventures – "Flight of the Arrowhead"
↑ Cite error: Invalid <ref> tag; no text was provided for refs named The_Power_of_Jakku