She-Hulk Trailer Dropped - The Loop
Play Sound
"Consider these... a gift."
―Count Dooku upon bestowing the lightsabers to Asajj Ventress
These lightsabers were a pair of curved-hilt lightsabers wielded by Asajj Ventress that once belonged to Komari Vosa.[2][3][4] The lightsabers could be joined together to make a saberstaff.
Specifications
[
]
The paired lightsabers used by Komari Vosa and Asajj Ventress emitted a red blade when activated. The activation stud on these lightsabers was concealed.[5] As paired lightsabers, the two weapons could be joined together at the hilt with fibercord to function as a saberstaff, but due to the curved form of the handle, it was somewhat more difficult to wield, especially with the precision demanded by Makashi.
Users
[
]
Komari Vosa
[
]
Komari Vosa only began using her curved-hilt lightsabers after turning to the dark side, during her tenure with the Bando Gora cult. She wielded them until her death in 32 BBY at the hands of Jango Fett and her former master Dooku.
Asajj Ventress
[
]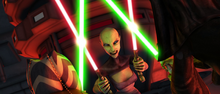 Asajj Ventress began using these lightsabers during the Clone Wars, after receiving them from Count Dooku. They were used against Mace Windu and Sora Bulq in a mock ambush on Ruul, where K'Kruhk almost died by her blade. When Ventress faced Kit Fisto, her use of Vosa's lightsabers almost took his life. After killing Tauht on Khorm, Ventress used these lightsabers against Plo Koon.
Luminara Unduli's lightsaber and Ahsoka Tano's lightsaber crossed with those of Ventress in her attempt to rescue Nute Gunray from the Republic when he was being held on the Tranquility. Luminara Unduli would once again face Ventress, this time with Aayla Secura on Alzoc III. During the Battle of Sullust, she crossed blades with Anakin Skywalker and Obi-Wan Kenobi, briefly losing one of her lightsabers. After a failed attempt on her life by Dooku, Ventress attempted to kill her former master, first in conjunction with Savage Opress's lightstaff, and then without the Zabrak's help.
During the fight above Raydonia, Kenobi briefly borrowed one of Ventress' lightsabers in order to regain his own which had been taken by Darth Maul.
Barriss Offee
[
]
After the Bombing of the Jedi Temple Hangar, Ventress used her curved lightsabers to engage Padawan Ahsoka Tano as she hid from Republic authorities for being framed of the bombings at the Temple. Ventress later helped Tano to prove her innocence and escorted her to the Level 1315 warehouse in the Coruscant underworld. After parting ways with Tano, Ventress was ambushed by Barriss Offee, who had turned to the dark side of the Force. Offee took Ventress's lightsabers along with her mask after knocking her out, then confronted Tano in a duel at the warehouse. Offee then used these lightsabers to duel Skywalker at the Jedi Temple after he had found out that she was the true mastermind behind the attack.
Appearances
[
]
Non-canon appearances
[
]
Sources
[
]
Non-canon sources
[
]
Notes and references
[
]