Jurassic World: Dominion Dominates Fandom Wikis - The Loop
Play Sound
"See, astromech droids were designed to repair starships, but they can also act as copilots, slicers, and even adorable travelin' companions. That adaptability is pretty hard to find."
―Strono "Cookie" Tuggs, The Official Black Spire Outpost Cookbook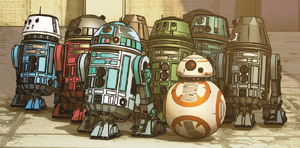 Astromech droids, also referred to as astro droids or mechs, were a type of repair droid that served as an automated mechanic on starships. These compact droids used tool-tipped appendages stored in recessed compartments. Many starfighters relied on astromech copilots to control flight and power distribution systems.[2] Sitting in an astromech socket exposed to space, the droid, in addition to its piloting duties, could calculate hyperspace jumps and perform simple repairs.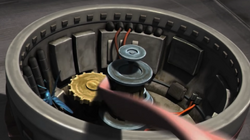 Most astromechs were only able to communicate in writing, conveyed via another computer system, or through a special code of clicks, bleeps, and similar sounds, known as binary. However, certain other droids, such as C-3PO, could understand the binary code of astromechs, and often translated from binary to other languages.
Astromech droids averaged 0.93 meters in height,[3] while R-series droids from the R2 line forward had a height of just over a meter.[4] However, the astromech P2 stood around the same height as a human.[5]
R-series droids had three wheeled legs.[3] The later BB-series astromech droids were spherical, giving them the ability to roll.[6] Some astromechs, such as OC-JK14, were moved on treadwells. Though this style was once popular in the Outer Rim Territories, it had fallen out of favor by 35 ABY.[7]
Known series
[
]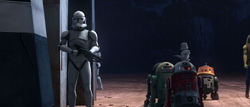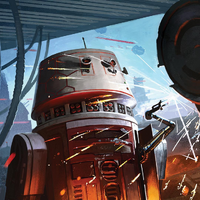 Appearances
[
]
Non-canon appearances
[
]
Sources
[
]
ARC-170 starfighter in the Encyclopedia (content now obsolete; backup link)
Astromech droids in the Encyclopedia (content now obsolete; backup link)
Naboo Royal Starship in the Encyclopedia (content now obsolete; backup link)
Naboo N-1 starfighter in the Encyclopedia (content now obsolete; backup link)
X-wing starfighter in the Encyclopedia (content now obsolete; backup link)
Y-wing starfighter in the Encyclopedia (content now obsolete; backup link) (Picture only)
"Shadow of Malevolence" Episode Guide – The Clone Wars on StarWars.com (backup link) (Picture only)
"Destroy Malevolence" Episode Guide – The Clone Wars on StarWars.com (backup link) (Picture only)
"Duel of the Droids" Episode Guide – The Clone Wars on StarWars.com (backup link) (Picture only)
"The Gungan General" Episode Guide – The Clone Wars on StarWars.com (backup link) (Picture only)
"Senate Spy" Episode Guide – The Clone Wars on StarWars.com (backup link) (Picture only)
Star Wars Rebels: Spark of Rebellion Premieres Friday, October 3 on Disney Channel on StarWars.com (backup link)
"

Chopper Rolls Out!

" – Star Wars Insider 152
(Set: 75106 Imperial Assault Carrier)
Star Wars: Rebels (Pack: Zeb Maquette) (backup link)
Star Wars: The Force Awakens Beginner Game (Picture only)
Star Wars: Destiny – Awakenings (Card: All In) (Picture only)
Star Wars: Destiny – Awakenings (Card: BB-8) (Picture only)
Star Wars Helmet Collection 13 (Databank A-Z: Poe Dameron–Delta 7-B; Helmets: Naboo Pilot; Highlights of the Saga: The Battle for Naboo)
Star Wars: Build Your Own R2-D2 1 (Building the Galaxy: Designing R2-D2, Part 1; Droid Directory: R2-series Astromech Droids, Part 1; Build R2-D2: Head & Right Shoulder)
Star Wars: Build Your Own R2-D2 2 (Building the Galaxy: Designing R2-D2, Part 2; Droid Directory: 3PO-series Protocol Droids, Part 1; Build R2-D2: Right Leg)
Star Wars: Build Your Own R2-D2 3 (Droid Directory: R2-series Astromech Droids, Part 2; Understanding Robotics: Printed Circuit Boards; Build R2-D2: Right Leg and Head Features)
Star Wars: Build Your Own R2-D2 4 (Building the Galaxy: Filming R2-D2, Part 1; Droid Directory: 3PO-series Protocol Droids, Part 2; Understanding Robotics: CMOS Image Sensors)
Star Wars: Build Your Own R2-D2 5 (Building the Galaxy: Filming R2-D2, Part 2; Build R2-D2: Head Bearing & Frame Components)
Star Wars: Build Your Own R2-D2 6 (Building the Galaxy: Filming R2-D2, Part 3; Droid Directory: EGL Power Droids; Understanding Robotics: LCDs; Build R2-D2: R2-D2's Diagnostic Display)
Star Wars: Build Your Own R2-D2 7 (Building the Galaxy: The Star Wars Stunt Team; Droid Directory: LOM-series Protocol Droids; Understanding Robotics: Artificial Assistants; Build R2-D2: Head Frame & Leg Components)
Star Wars: Build Your Own R2-D2 8 (Droid Directory: Imperial Mark IV Sentry Droid; Build R2-D2: Head Frame & Ankle Components)
Star Wars: The Last Jedi Activity Book with Stickers (Picture only)
Star Wars Helmet Collection 46 (Databank A-Z: Providence-class–Raxus; Weapons & Uniforms: Heroes of the Resistance; Highlights of the Saga: The Hunt for Luke Skywalker)
Star Wars Helmet Collection 50 (Databank A-Z: Luke Skywalker–Han Solo; Helmets: Jess Pava; Highlights of the Saga: The Search for Lor San Tekka)
Star Wars: X-Wing Second Edition – Rebel Alliance Conversion Kit (Card: R4 Astromech) (Reissued in Scum and Villainy Conversion Kit, T-65 X-Wing Expansion Pack, Resistance Conversion Kit, Guardians of the Republic Squadron Pack, Heralds of Hope Squadron Pack)
Star Wars: X-Wing Second Edition – Core Set (Card: R2 Astromech) (Reissued in Rebel Alliance Conversion Kit, Scum and Villainy Conversion Kit, T-65 X-Wing Expansion Pack, Resistance Conversion Kit, Naboo Royal N-1 Starfighter Expansion Pack, Punishing One Expansion Pack)
Star Wars: X-Wing Second Edition – Core Set (Card: R3 Astromech) (Reissued in Rebel Alliance Conversion Kit, Scum and Villainy Conversion Kit, Resistance Conversion Kit, ARC-170 Starfighter Expansion Pack, Delta-7 Aethersprite Expansion Pack)
Star Wars: X-Wing Second Edition – Core Set (Card: R5 Astromech) (Reissued in BTL-A4 Y-Wing Expansion Pack, Rebel Alliance Conversion Kit, Resistance Conversion Kit, Scum and Villainy Conversion Kit, Guardians of the Republic Squadron Pack)
Star Wars: Alien Archive (Picture only)
Star Wars: The Black Series (Pack: L3-37) (backup link)
Star Wars: X-Wing Second Edition – Resistance Conversion Kit (Card: BB Astromech) (Reissued in T-70 X-Wing Expansion Pack)
Star Wars: X-Wing Second Edition – Resistance Conversion Kit (Card: Blue Squadron Rookie) (Reissued in T-70 X-Wing Expansion Pack, Heralds of Hope Squadron Pack)
Star Wars: Build Your Own X-Wing 1 (Creating a Starship Fleet: Ralph McQuarrie – The Man Who Drew Star Wars; Starfighter Aces: Luke Skywalker – Savior of the Rebel Alliance; Rocket Science: Fighter Design; Build the X-Wing: Cockpit Canopy, Cannon, and Astromech Droid (R2-D2))
Star Wars Helmet Collection 69 (Databank A-Z: Vulptex–Wampas) (Picture only)
Star Wars: X-Wing Second Edition – Delta-7 Aethersprite Expansion Pack (Card: Delta-7B) (Reissued in Guardians of the Republic Squadron Pack)
Star Wars: X-Wing Second Edition – Delta-7 Aethersprite Expansion Pack (Card: R4-P Astromech) (Reissued in Guardians of the Republic Squadron Pack)
Star Wars: Creatures Big & Small (Picture only)
Every Language in Star Wars Movies | Star Wars By the Numbers on the official Star Wars Kids YouTube channel (backup link)
Star Wars: X-Wing Second Edition – Fireball Expansion Pack (Card: R1-J5 (Astromech)) (Picture only)
"Imperial Troops" – Star Wars Encyclopedia (Picture only)
Star Wars: The Lightsaber Collection (Picture only)
Star Wars: X-Wing Second Edition – Heralds of Hope Squadron Pack (Card: Overdrive Thruster) (Picture only)
Star Wars: X-Wing Second Edition – Heralds of Hope Squadron Pack (Card: R2-D2) (Picture only)
Star Wars: X-Wing Second Edition – Heralds of Hope Squadron Pack (Card: R6-D8) (Picture only)
Star Wars Bust Collection 2 (Star Wars Universe: Stormtroopers) (Picture only)
10 Helpful Droids | Star Wars: List It! on the official Star Wars Kids YouTube channel (backup link)
The Book of Boba Fett Cargo Hold: "Chapter 5: Return of the Mandalorian" on StarWars.com (backup link) (Picture only)
The Book of Boba Fett Cargo Hold: "Chapter 6: From the Desert Comes a Stranger" on StarWars.com (backup link) (Picture only)
The Book of Boba Fett Cargo Hold: "Chapter 7: In the Name of Honor" on StarWars.com (backup link) (Picture only)
The Best of The Book of Boba Fett: 5 Highlights from "Chapter 7: In the Name of Honor" on StarWars.com (backup link)
Faithful Friends | Star Wars: List It! on the official Star Wars Kids YouTube channel (backup link)
The Story of the Ronin Continues and More From Marvel's September 2022 Star Wars Comics – Exclusive Preview on StarWars.com (backup link) (Picture only)
LEGO Star Wars Summer Vacation | Official Trailer | Disney+ on the official Star Wars YouTube channel (backup link)
2BR-NTB in the Databank (backup link) (Picture only)
79's in the Databank (backup link) (Screen only)
Adi Gallia in the Databank (backup link) (Picture only)
Ahsoka Tano in the Databank (backup link)
Alderaan in the Databank (backup link)
AP-5 in the Databank (backup link)
ARC-170 Starfighter in the Databank (backup link)
Astromech Droid in the Databank (backup link)
BB unit in the Databank (backup link)
BB-9E in the Databank (backup link)
Bucket (R1-J5) in the Databank (backup link)
C2-B5 in the Databank (backup link)
CG-67 in the Databank (backup link)
Clink in the Databank (backup link)
Courier Droid in the Databank (backup link)
Death Star Plans in the Databank (backup link)
Kazuda "Kaz" Xiono in the Databank (backup link) (Picture only)
Horizon Base in the Databank (backup link)
Hype Fazon in the Databank (backup link) (Picture only)
L3-37 in the Databank (backup link)
Naboo N-1 Starfighter in the Databank (backup link)
Naboo Royal Starship in the Databank (backup link)
R4-D12 in the Databank (backup link)
R4-G77 in the Databank (backup link)
R5-G9 in the Databank (backup link)
Torch in the Databank (backup link)
X-wing Starfighter in the Databank (backup link)
Yoda's Fighter in the Databank (backup link)
Notes and references
[
]
↑ 14.0 14.1 14.2 14.3 14.4 Every Droid in Star Wars | Star Wars By the Numbers on the official Star Wars Kids YouTube channel (backup link)
↑ R3-S6 in the Encyclopedia (content now obsolete; backup link)