Boba Fett Returns - The Loop
Play Sound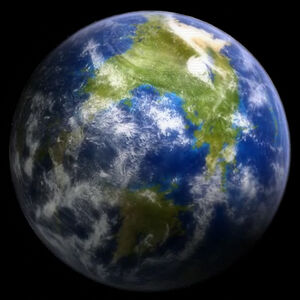 An atmosphere is a collection of gases that surrounded a celestial body that possessed sufficient mass, and therefore sufficient gravity to hold it. Examples included many planets, moons, and large asteroids. Almost all species in the galaxy needed some form of atmosphere to breathe. During the height of the Galactic Empire's colonial period, a system of classification for atmospheres was established. This system, which was afterward adopted by nearly all subsequent governments in the galaxy, separates atmospheres into four distinct categories:
Type I atmospheres
[
]
Breathable

Type I atmospheres had appropriate levels of oxygen, nitrogen, and hydrogen to be breathable by the majority of species in the galaxy. Some contaminants or other trace gases could have had long-term detrimental effects. Planets with these types of atmospheres almost always had some form of indigenous life. Plant life or some analog that frees oxygen was present on all planets with a Type I atmosphere—all oxygen in the atmosphere would have been bound to other elements within a matter of months without such life to free it up. Most heavily populated planets, such as Alderaan and Coruscant, had Type 1 atmospheres.
Type II atmospheres
[
]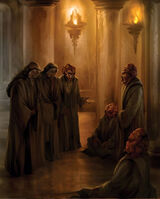 Breath mask Suggested
Type II atmospheres usually had appropriate levels of atmospheric oxygen and nitrogen. Due to lack of sufficient pressure or the presence of contaminants and/or of other trace gases, however, these atmospheres usually caused detrimental effects to Humans and most other species over a shorter period of time. Many species could breathe Type II atmospheres without any trouble depending on physiology. Planets with a Type II atmosphere usually supported some form of indigenous life. Mustafar's volcanism gave it a Type II atmosphere.
Type III atmospheres
[
]
Breath mask Required
Within Type III atmospheres, due to either the lack of appropriate levels of atmospheric oxygen, nitrogen, sufficient pressure, the presence of contaminants and/or of trace gases, a breath mask had to be worn. For Humans and most other species, these atmospheres caused immediate or eventual impediments or even incapacitation. Some species could breathe these types of atmospheres depending on physiology and biology. Planets with a Type III atmosphere sometimes supported native life, such as Goroth Prime and Dorin.
Type IV atmospheres
[
]
Environment Suit Required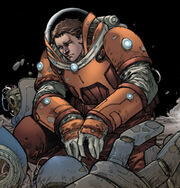 Type IV atmospheres were either toxic, flammable, extremely high pressure, or nonexistent; these types of atmospheres caused immediate incapacitation or death in most species of the galaxy. Few species could breathe in this type of atmosphere; planets with a Type IV atmosphere rarely supported life. Most asteroids had Type IV atmospheres.
Other uses
[
]
The word "atmosphere" was also used to represent the capacity of a starship to hold a determined atmosphere in its decks. A broken hull could produce a sudden loss of atmosphere (called "decompression").[1]
Appearances
[
]
Sources
[
]
"First Contact"—Star Wars Adventure Journal 1 (Varonat game information)
"A Glimmer of Hope"—Star Wars Adventure Journal 1 (Garos IV game information)
"Whispers in the Dark"—Star Wars Adventure Journal 2 (Garos IV game information)
"Out of the Cradle"—Star Wars Adventure Journal 2 (Socorro game information)
"Mission to Zila"—Star Wars Adventure Journal 3 (Garos IV game information)
"The Final Exit"—Star Wars Adventure Journal 4 (Najiba and Trulalis game information)
"Shadows of Darkness"—Star Wars Adventure Journal 4 (Garos IV game information)
"One of a Kind"—Star Wars Adventure Journal 5 (Venaari game information)
"A Bitter Winter"—Star Wars Adventure Journal 5 (Redcap game information)
"Turning Point"—Star Wars Adventure Journal 5 (Garos IV game information)
"Vengeance Strike"—Star Wars Adventure Journal 5 (Wroona Roleplaying Game Statistics)
"Rendezvous with Destiny"—Star Wars Adventure Journal 6 (Sarahwiee game information)
"Ringers"—Star Wars Adventure Journal 6 (Stassia game information)
"Kella Rand, Reporting..."—Star Wars Adventure Journal 6 (Indu San game information)
"Missed Chance"—Star Wars Adventure Journal 7 (Garqi section)
"Passages"—Star Wars Adventure Journal 7 (Kabaira game information)
"Uhl Eharl Khoehng"—Star Wars Adventure Journal 8 (Trulalis game information)
"Blaze of Glory"—Star Wars Adventure Journal 8 (Gabredor III game information)
"Firepower"—Star Wars Adventure Journal 8 (Hargeeva game information)
"Combat Moon"—Star Wars Adventure Journal 9 (Rabaan and S'krrr game information)
"Easy Credits"—Star Wars Adventure Journal 9 (Rydonni Prime game information)
"Only Droids Serve the Maker"—Star Wars Adventure Journal 10 (Monor II: Kline Colony game information)
"Small Favors"—Star Wars Adventure Journal 12 (Corulag game information)
"Conflict of Interest"—Star Wars Adventure Journal 13 (Verkuyl Roleplaying Game Statistics)
"The Occupation of Rhamalai"—Star Wars Adventure Journal 13 (Rhamalai Roleplaying Game Statistics)
"Murder in Slushtime"—Star Wars Adventure Journal 14 (Gamorr game information)
"The Draw"—Star Wars Adventure Journal 15 (Vernet Roleplaying Game Statistics)
 "Ilum: A Frozen World Hides a Jedi's Secret" on Wizards.com (original article link, content now obsolete; backup link)
 "Rescued Aliens: Swamp Slug and Stone Mite" on Wizards.com (original article link, content now obsolete; backup link)
 "Arms & Equipment Guide Extras!" on Wizards.com (original article link, content now obsolete; backup link)
 "Raxus Prime" on Wizards.com (original article link, content now obsolete; backup link)
 "Anakin's Living Ship" on Wizards.com (original article link, content now obsolete; backup link)
 "Ultimate Alien Anthology Web Enhancement" on Wizards.com (original article link, content now obsolete; backup link)
 "Galactic Gazetteer: Hoth and the Greater Javin" on Wizards.com (original article link, content now obsolete; backup link)
 The Clone Wars Episode Guide: Duel of the Droids on StarWars.com (content now obsolete; backup link)
 "Planet Hoppers: Skako" on Wizards.com (original article link, content now obsolete; backup link)
 "Message to Spacers 10" on Wizards.com (original article link, content now obsolete; backup link)
Star Wars: The Essential Guide to Warfare Author's Cut — The Celestials on StarWars.com (article) (backup link)
"Jedi Crash" - The Clone Wars Episode Guide on StarWars.com (backup link) (Slide 8)
Star Wars: Force Collection (Card: AT-AT Pilot)
Abafar in the Encyclopedia (content now obsolete; backup link)
Escape pod in the Encyclopedia (content now obsolete; backup link)
Notes and references
[
]
External links
[
]