Spider-Man: No Way Home Trailer Dropped - The Loop
Play Sound
«The remote turrets will finish them off!»
An autoturret was a blaster turret emplacement used to defend an area. Known for their killing power and effectiveness, they were employed by many factions throughout galactic history.
History
[
]
Autoturrets were used widely during the Jedi Civil War, with the Sith Empire deploying them to restrict access to the Undercity of Taris and to defend their military bases. Often, they were installed at the entrances to hidden bases, onboard capital ships, or near personal valuables.[1]
During the First Jedi Purge, the fortified base of Khoonda on Dantooine utilized them.[2]
In the later stages of the Clone Wars, portable autoturrets were used by both the Grand Army of the Republic and the Separatist Droid Army for covering fire or to reinforce the defense of field command posts. These autoturrets became the standard equipment of clone and droid snipers, who were entrusted with their deployment.[3]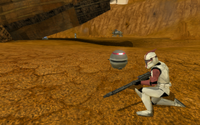 Autoturret turbolasers were used extensively in sensitive Imperial installations, such as the Imperial Detention Facility on Orinackra as well as on Imperial City, and most notably on the first and second Death Star.
During the Yuuzhan Vong War, they were utilized in the defense of Ithor. The turrets tricked the warriors into destroying a building that was in actuality an explosive device to be used offensively against them.
Appearances
[
]
Sources
[
]
Notes and references
[
]