The BTL-B Y-wing fighter-bomber[1] was a model of Y-wing starfighter used by the Galactic Republic during the Clone Wars. It was both a starfighter and a bomber, and an early predecessor to the BTL-A4 Y-wing assault starfighter/bomber flown by the Alliance to Restore the Republic decades later in the Galactic Civil War.[3]
History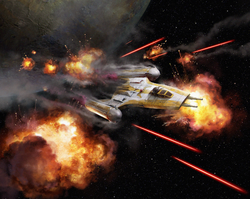 BTL-B Y-wings were a mainstay in the Republic Navy during the Clone Wars, becoming an instrumental bomber in the fight against the Confederacy of Independent Systems. Y-wings were notably used by Shadow Squadron during the attack on the Separatist heavy cruiser Malevolence.[5] During the Battle of Ryloth, a squadron of Y-wings were used to break the blockade over Ryloth. As noted by AP-5, a Republic analyst droid who helped coordinate the campaign, Y-wings tended to be "a bit buggy" during atmospheric operations;[8] Clone Captain CT-7567, however, knew the Y-wings to be solid in combat.[9] The light bomber was used to drop an experimental electro-proton bomb on Separatist forces near the end of the Battle of Malastare, completely annihilating the droid army,[10] as well as the being used to bombard entrenched Confederate gunners and dogfighting with Geonosian starfighters during the Second Battle of Geonosis.[11]
Appearances
Sources
Notes and references
↑ 1.0 1.1 1.2 1.3 1.4 Received some excellent books yesterday courtesy of @insighteditions - the Rebel Starfighters features some fantastic shots of the new Resistance Y-wing from #TheRiseofSkywalker as well as T-85 x-wing from #StarWarsResistance (@yak_face) on Twitter
↑ 3.0 3.1 3.2  Y-wing Starfighter in the Databank (backup link)
Community content is available under
CC-BY-SA
unless otherwise noted.