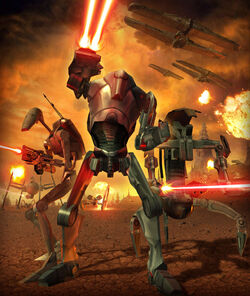 A battle droid (also referred to as war droid or killer droid) was any droid designed for combat.
There were numerous types of battle droids. They predated the Galactic Republic by thousands of years, with the earliest known being Rakatan ancient droids and the war-robots used by Xim the Despot.
Many of the best known battle droids were those used by the Confederacy of Independent Systems during the Clone Wars.
By the time of the Battle of Yavin, however, battle droids were extremely rare.
Types of battle droids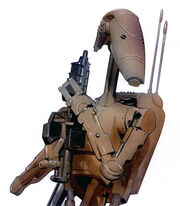 Appearances
Non-canon appearances
Sources
Community content is available under
CC-BY-SA
unless otherwise noted.