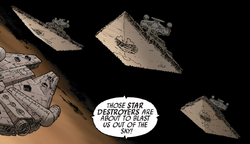 "Among our most recent losses was the battle group at Falleen."
―Obi-Wan Kenobi, to Anakin Skywalker
A battle group,[1] also referred to as a fleet group,[2] was a naval formation in the naval forces of the Galactic Republic during the Clone Wars. The Falleen battle group was destroyed during the Battle of Falleen and shortly prior to the Battle of Bothawui, Jedi General Obi-Wan Kenobi reported the loss of the battle group to Jedi General Anakin Skywalker and Jedi Commander Ahsoka Tano. Skywalker then led his forces against the Separatist fleet of General Grievous in the Battle of Bothawui.[1] The Confederacy navy also made use of battle groups.[3] The 61st Mobile Infantry was one of many battle groups in the Alliance to Restore the Republic.[4]
Community content is available under
CC-BY-SA
unless otherwise noted.