Wiki Targeted (Entertainment)
Play Sound
"They've hit the main reactor! Prepare to evacuate."
―Adi Gallia, to a clone naval officer aboard her crippled flagship
A battle broke out near the planet Patitite Pattuna during the Clone Wars, when Jedi General Adi Gallia's cruiser was ambushed by a Separatist fleet led by General Grievous.
The battle
[
]
General Adi Gallia and her clone troopers of the 91st Mobile Reconnaissance Corps had been bound for Republic space, when they were caught off guard by Grievous and several Separatist warships. Unable to mount a significant defense in time, the Separatists were able to quickly disable the Republic Star Destroyer's main reactor.[1]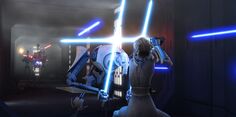 Grievous then led a boarding party of battle droids aboard the Republic warship to capture Gallia. While nonessential personnel evacuated from her cruiser via LAAT/i gunships amidst ongoing starfighter dogfights, Gallia engaged Grievous in lightsaber combat, but she was overwhelmed and taken prisoner. Her Star Destroyer, meanwhile, fell to turbolaser fire from the enemy fleet.[1]
The Republic droids C-3PO and R2-D2, who had been aboard Gallia's flagship, managed to escape to Patitite Pattuna aboard a BTL-B Y-wing starfighter/bomber.
Aftermath
[
]
Jedi Master Plo Koon soon after launched a rescue mission to free Gallia from custody aboard Grievous's dreadnought, which met with success despite General Grievous's escape. The rescue also R2-D2 and C-3PO reunite with Republic forces.[5]
Appearances
[
]
Sources
[
]
Notes and references
[
]
↑ 1.00 1.01 1.02 1.03 1.04 1.05 1.06 1.07 1.08 1.09 1.10 1.11 1.12 1.13 1.14 1.15 1.16 1.17 1.18 1.19 1.20 1.21 1.22 1.23 1.24 1.25 1.26 1.27 1.28 1.29 1.30 1.31 Star Wars: The Clone Wars – "Nomad Droids"
↑ Star Wars: Rogue One: The Ultimate Visual Guide states that the Onderonian Civil War began 22 years before the Rogue One mission, and that it ended 19 years before the mission. Star Wars: Galactic Atlas dates the Rogue One mission to 0 BBY. Therefore, the Onderonian Civil War began in 22 BBY and ended in 19 BBY.
↑ Star Wars: Force Collection (Card: Bacara (★★★★))
↑ Star Wars: Galactic Atlas places the Battle of Mon Cala and the skirmish in Theed to 20 BBY. As the episode this event takes place within takes place between the events of the episodes the other events are attached to according to Star Wars: The Clone Wars Chronological Episode Order on StarWars.com (backup link), this event must also take place 20 BBY.