"They've hit the main reactor! Prepare to evacuate."
―Adi Gallia, to a clone naval officer aboard her crippled flagship
A battle broke out near the planet Patitite Pattuna during the Clone Wars, when Jedi General Adi Gallia's cruiser was ambushed by a Separatist fleet led by General Grievous.
The battle
Edit
General Adi Gallia and her clone troopers of the 91st Mobile Reconnaissance Corps had been bound for Republic space, when they were caught off guard by Grievous and several Separatist warships. Unable to mount a significant defense in time, the Separatists were able to quickly disable the Republic Star Destroyer's main reactor.[1]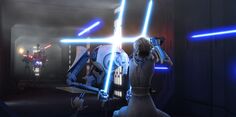 Grievous then led a boarding party of battle droids aboard the Republic warship to capture Gallia. While nonessential personnel evacuated from her cruiser via LAAT/i gunships amidst ongoing starfighter dogfights, Gallia engaged Grievous in lightsaber combat, but she was overwhelmed and taken prisoner. Her Star Destroyer, meanwhile, fell to turbolaser fire from the enemy fleet.[1]
The Republic droids C-3PO and R2-D2, who had been aboard Gallia's flagship, managed to escape to Patitite Pattuna aboard a BTL-B Y-wing fighter-bomber.
Aftermath
Edit
Jedi Master Plo Koon would soon launch a rescue mission to free Gallia from custody aboard Grievous's dreadnought.[3]
Appearances
Edit
Notes and references
Edit
↑ 1.00 1.01 1.02 1.03 1.04 1.05 1.06 1.07 1.08 1.09 1.10 1.11 1.12 1.13 1.14 1.15 1.16 1.17 1.18 1.19 1.20 1.21 1.22 1.23 1.24 1.25 1.26 1.27 1.28 1.29 Star Wars: The Clone Wars – "Nomad Droids"
Community content is available under
CC-BY-SA
unless otherwise noted.