"Blast it! I hate it when my cons come true."
The Battle of Vanquo was a battle above and on Vanquo fought between the Galactic Republic and the Mandalorians in 3,964 BBY, during the Mandalorian Wars.
Background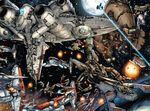 Mandalore the Ultimate hoped to use the battle to divide the Republic Navy for a main thrust at Taris.
The battle
The battle began when Mandalorian Shocktroops under Commander Rohlan Dyre attacked the mining camps on the planet's night side, while the Mandalorian fleet set up a screen over the dayside.
The Courageous led a fleet against Mandalorian battleships in orbit above the planet.
Appearances
Community content is available under
CC-BY-SA
unless otherwise noted.