"Tell me where Lor San Tekka took the map."
"…Bayora. He took it to Bayora."
―Kylo Ren and Del Meeko
Bayora was a location in the galaxy where, at some point in time, Lor San Tekka took a map that led to Luke Skywalker. While probing the mind of Del Meeko, Kylo Ren learned that Tekka had taken the map to Bayora.[2]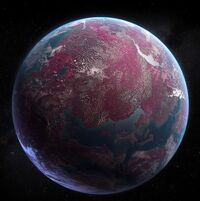 Bayora was first mentioned in the 2017 video game, Star Wars Battlefront II as part of the single player campaign.[2] It later was mentioned in the 2020 video game Star Wars: Squadrons.[1]
Community content is available under
CC-BY-SA
unless otherwise noted.