"I worked in so many areas. I mean, I used to get a laugh when I said the only things I haven't done are rodeo and porno."
―Bea Arthur
Bea Arthur was an American actress known for her deep voice and sharp delivery of comedic lines who gained fame acting on Broadway, in television, and in films throughout her long career. Born Bernice Frankel in 1922, Arthur changed her name early in her life and began acting soon after. After graduating from the Dramatic Workshop acting school in New York City, she formed an Off Broadway acting troupe and earned critical praise for performing comic roles, eventually winning a Tony Award for her role in the musical Mame. A guest appearance on the television sitcom All in the Family earned her a show of her own, Maude, which ran for six successful seasons.
In 1978, Arthur was invited to appear on The Star Wars Holiday Special, a holiday-themed variety show set in the Star Wars universe that was attempting to capitalize off of the success of the wildly popular film of the previous year, Star Wars. Arthur portrayed Ackmena, a gruff bartender at the Mos Eisley Cantina whose rowdy patrons refused to obey a planet-wide curfew imposed by the Galactic Empire. Ackmena resorted to singing the song "Goodnight, But Not Goodbye," which caused them to waltz out the door.
Arthur found further success on television when she played the pragmatic Dorothy Zbornak on the 1980s sitcom The Golden Girls, a very popular show throughout its seven year run. In the 1990s and 2000s, she guest-starred on several television shows and put together a one-woman show that she brought to Broadway. After falling ill from cancer, Arthur passed away in her home in 2009. She was remembered fondly by friends, family, and the Broadway community.
Biography
Edit
"Shit. I've been around since Christ! What do you need a bio on me for?"
―Bea Arthur
Early life
Edit
"It was a beautiful place to grow up, but it was very… barren, creatively."
―Arthur, on her hometown
Bernice Frankel[2] was born on May 13, 1922,[3] to parents Phillip and Rebecca Frankel in New York, New York. When she was four years old, her family moved to Cambridge, Maryland. They were one of few Jewish families living in the seaside town, and Frankel encountered a large number of boys in her neighborhood named Burnice, which prompted her to change her name to Beatrice Arthur. Arthur was shy among her classmates,[2] and was often teased about her tall stature and Jewish heritage.[6] She found an escape through performing in school plays, but was cast mainly in male parts due to her height. Arthur dreamed of becoming a singing and dancing starlet[2] and won the title of "wittiest girl" in high school after developing an impression of actress Mae West.[6] At her high school, she once performed in a Minstrel show.[7] After graduating, Arthur put her acting dreams aside in order to leave Cambridge, and attended the Franklin Institute in Philadelphia, Pennsylvania. After one year of studying, she became a fully-licensed medical technician, but quickly bored of the profession and began dreaming once again of becoming a star. Leaving her summer internship, Arthur moved back to New York City and auditioned for the city's famed acting school, Dramatic Workshop.[2]
Arthur was accepted into the school and began studying under the director Erwin Piscator, alongside other future stars such as Harry Belafonte, Walter Matthau, Rod Steiger, Tony Curtis,[6] Marlon Brando, and James Dean.[8] Arthur's height, large breasts, and deep voice prompted Piscator to cast her in many classical roles,[9] in such plays as William Shakespeare's The Taming of the Shrew and Aristophanes's Lysistrata. She was unable to find professional work in classical theatre, however,[6] and decided to attempt a career in singing. During her time at Dramatic Workshop, Arthur married the young playwright Robert Alan Aurthur, but the two soon divorced.[9]
Comedic breakthrough
Edit
"I was doing it from the heart, and I suddenly realized: Now I know what comedy is. It was such a revelation, it was like—comedy is being terribly serious."
―Arthur, describing how she unintentionally discovered her comedic talent
Arthur was hired at a nightclub,[9] but found that her attempts to sing serious songs from her heart often made audiences laugh.[2] Her employer dismissed her, suggesting that her tall, imposing personality might be better suited for comedy. Taking his advice, she formed an Off Broadway theatre company with some of her classmates from Dramatic Workshop in 1947. She married her classmate Gene Saks in 1950, and throughout the early 1950s, was cast in several touring variety shows. Her breakthrough role occurred in 1953 when she played the role of Lucy Brown in the musical The Threepenny Opera,[9] which garnered excellent reviews; critics praised Arthur's "skillfully devastating satire" and claimed that she "oozed comic command."[6] Arthur's stage career took off, and in 1956, she understudied the former screen goddess Tallulah Bankhead in a Broadway production of The Ziegfield Follies. During the show's run, Bankhead told Arthur that she had talent but lacked the bone structure to be a star.[9]
Unhindered by Bankhead's sooth, Arthur pressed on, and her comedic talent was recognized by various critics. She was soon called on to play minor television roles alongside famous comedians[9] such as Steve Allen, Art Carney, and Ed Sullivan.[10] In 1959, the television writer Norman Lear invited her to become a regular cast member on the popular George Gobel show. Arthur accepted the role, but the program was canceled after she had done less than five episodes. She struck up a close friendship with Lear, however, and remained in contact with him as she stepped away from the spotlight in order to focus on family matters. Her husband had become a Broadway director, allowing her to remain at home and raise their two sons, Matthew and Dillon, born respectively in 1961 and 1963.[9]
When Saks contracted hepatitis in 1964, Arthur took a role[11] as Yente the Matchmaker in a Broadway production[6] of Fiddler on the Roof in order to supply an income for her family. Two years later, Saks had recovered enough to resume working, and was hired to direct the musical Mame. The young actress Angela Lansbury was cast as the titular character, while Arthur took the supporting role of Mame's best friend, Vera Charles. Her role as Charles won her a Tony Award for Best Featured Actress in a Musical that year. After one year on Broadway, Arthur returned home to continue raising her children, but had made another life-long friend in Lansbury.[11]
A show of her own
Edit
"I was already 50 years old. I had done so much off-Broadway, on Broadway, but they said, 'Who is that girl? Let's give her her own series.'"
―Bea Arthur
Over the next several years, Norman Lear continually attempted to persuade Arthur to guest-star on his popular television series All in the Family, but she repeatedly declined, citing a lack of interest in doing television and no desire to leave New York. Arthur visited Saks in the summer of 1971 while he was directing a show in Los Angeles, California, and finally accepted Lear's offer.[10] She appeared on All in the Family as Maude Findlay, the outspoken, liberal cousin of the principal character Edith Bunker. Findlay was presented as the antithesis of Edith Bunker's bigoted, conservative husband Archie, and was created by Lear to be the first person to ever talk back to Archie and put him in his place. Viewers and CBS executives responded so favorably to the character that the decision was immediately made to create a television show around her.[6][10][11]
Arthur's family moved to Los Angeles, and Maude premiered on CBS in the fall of 1972. Throughout its six-year run, it dealt with such controversial issues as women's liberation, alcoholism, and abortion.[6][10][11] It was Findlay herself who decided to have an abortion while in the midst of a late-life pregnancy. The episode in which her decision occurred drew scores of hate mail directed at CBS, but also became a rallying cry for pro-choice activists.[8][11][12] The show became very popular among both male and female viewers, and quickly moved into the top ten of the Nielsen ratings.[6]
Arthur's feminist character was admired for her ability to tell off her husband and say what she really felt,[6] but those close to Arthur asserted that in reality, she contrasted sharply with her character. While Findlay was loud-spoken and assertive, Arthur was soft-spoken, tender, and very kind to her husband.[13] Arthur's ability to play a character very different than herself won her an Emmy Award for Outstanding Lead Actress in a Comedy Series in 1977,[6] which was her fourth time being nominated.[14] During Maude's run, she reprised her role as Vera Charles in the 1974 film adaptation of Mame, which her husband directed. Although the movie bombed,[13] Arthur's role was praised,[15] and her career was left intact. Saks's, however, plummeted, and the two began struggling to save their marriage.[13]
The Star Wars Holiday SpecialEdit
Arthur: "It was a wonderful time, but I had no idea it was even a part of the whole Star Wars thing."
Mercury: "Well, that song was great."
Arthur: "Well, thanks. It's odd. I've gotten so many letters and requests for autographed photos from that thing. I just remember singing to bunch of people with funny heads."
―Bea Arthur, interviewed by the Portland Mercury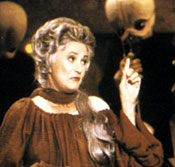 As the Emmy-winning lead of one of television's most popular shows, Arthur was a star.[13] In 1978, she was invited by[16] Ken and Mitzie Welch,[17] the composers of a song called "Goodnight, But Not Goodbye," to sing it on a television program called The Star Wars Holiday Special.[16] Star Wars had been a wildly successful film released the previous year,[18] and a holiday-themed variety show was being produced to capitalize off of its success.[19] Arthur played the role of Ackmena, a gruff and assertive bartender working the night shift at the Mos Eisley Cantina, who was forced to close down the bar after the Galactic Empire imposed a planet-wide curfew. When the patrons refused to leave, she resorted to singing "Goodnight, But Not Goodbye," which prompted everyone present to waltz out the door.[4]
Arthur's scene proved to be a lengthy shoot,[17] spanning twenty-four hours,[20] but she nevertheless enjoyed working on the special, even though she was unaware that it was part of the larger Star Wars franchise. Years later, she would recall singing to a group of people with funny heads,[16] as the various cantina patrons had been aliens from throughout the Star Wars galaxy.[4] The special itself received good reviews at the time,[21] but ultimately came to be almost universally panned by later reviewers.[22][23][24][25] Arthur's musical performance has been cited as one of its high points,[26] despite being considered just as bizarre as the rest of the production.[24][27] Arthur's role led to scores of letters and requests for autographed photos from Star Wars fans throughout the proceeding years.[16]
Golden yearsEdit
"She represented an isle of sanity that could look at the other three characters from the audience's perspective, and she was able to deliver that week after week."
―The Golden Girls producer Paul Witt, on Arthur's character
1978 also saw the end of Maude. Although the show remained very successful and popular, and network executives wanted to continue its production, Arthur decided that the show should end on a high note. Her fame, however, coupled with Saks's struggling career, led to their divorce in 1979. In the early 1980s, Arthur made guest appearances on a number of sitcoms and variety shows,[13] and hosted The Bea Arthur Special in 1980. The musical comedy revue paired her with such comedians as Rock Hudson and Melba Moore.[28] 1983 saw her make a brief return to Broadway[13] and star in the short-lived sitcom Amanda's,[15] but it was in 1985 that she rediscovered the success she had found with Maude.[13]
A new sitcom called The Golden Girls was being cast, and its four main characters were all older women living in a Florida retirement community. The producers were seeking four actresses who could pull off the show's racy humor, and wrote the character of Dorothy Zbornak as "a Bea Arthur type." Arthur initially declined offers to audition for the role, but agreed to read the script on the advice of Rue McClanahan, who had starred opposite her in Maude and had already been cast as Blanche Devereaux in The Golden Girls. Arthur liked the script and took the role as the pragmatic Dorothy Zbornak, joining McClanahan, Betty White, and Estelle Getty. She was so impressed by the script that she failed to even realize that the show starred four elderly women.[13]
The Golden Girls was a hit, and throughout its seven-year run, all four stars took home Emmys; Arthur won her second Outstanding Lead Actress in a Comedy Series award in 1988.[29] Her portrayal of Zbornak as the sharp-tongued leader of the women drew a loyal fanbase,[6] and the show remained popular right up until its final season in 1992, placing in the top ten of the Nielsen Ratings for its first five years. Once again, however, Arthur wanted to finish on a high note, and left the show after its seventh season.[29]
Later days
Edit
"All in all, I've had a damn good life."
―Bea Arthur
Arthur enjoyed semi-retirement during the 1990s, limiting her work to a few plays, television guest spots,[29] and films, including 1995's For Better or Worse. In 1996, she appeared on the television show Judge Judy as a witness for a defendant who was involved in PETA, an animal-rights organization.[15] The 2000s saw her guest-star on the television shows Malcolm in the Middle and Curb Your Enthusiasm, the former of which earned her her eleventh Emmy nomination.[3][29] She also provided a guest voice on the animated series Futurama,[3] which marked her first time doing voice acting.[30]
Arthur had always dreamed of singing in front of an orchestra,[29] and in 2001 made her dream come true by putting together the one-woman show And Then There's Bea[8] and touring it around the United States.[29] She returned to Broadway in 2002 with Bea Arthur on Broadway: Just Between Friends,[8] a collection of songs and stories from her life.[29] Arthur retired to a ranch in California[15] and performed charitable work throughout the decade, appearing in television ads for PETA[29] and chairing the non-profit performing arts scholarship Art Attack Foundation.[12] After becoming ill from cancer, she passed away at her home on April 25, 2009,[1][3][31] and her body was cremated.[32] Arthur was remembered fondly by many of her friends and co-stars, including Angela Lansbury, Betty White, and Adrienne Barbeau,[33][34] and the Broadway community paid tribute to her life by dimming the marquees of New York City's Broadway theatre district for one minute on April 28, 2009.[35]
Filmography
Edit
Star WarsEdit
Bibliography
Edit
Notes and references
Edit
↑ 1.0 1.1 1.2 Bea Arthur, Star of Two TV Comedies, Dies at 86 (2017-04-25). Archived from the original on August 10, 2017. Retrieved on October 21, 2017.
↑ 2.0 2.1 2.2 2.3 2.4 2.5 2.6 2.7 Lifetime Biography: Bea Arthur. Youtube.com. Retrieved on July 7, 2010.
↑ 3.0 3.1 3.2 3.3 3.4 3.5 3.6 3.7 Bea Arthur at the Internet Movie Database (backup link)
↑ Bea Arthur. IBDB: The Internet Broadway DataBase. Retrieved on July 14, 2010.
↑ 6.00 6.01 6.02 6.03 6.04 6.05 6.06 6.07 6.08 6.09 6.10 6.11 Kirsten Fermaglich. Bea Arthur (b. 1926). Jewish Virtual Library. Retrieved on July 7, 2010.
↑ TV Legends: Beatrice Arthur - Archive Interview Part 1 of 5. YouTube.com. Retrieved on July 13, 2010.
↑ 9.0 9.1 9.2 9.3 9.4 9.5 9.6 Lifetime Biography: Bea Arthur Part 2. Youtube.com. Retrieved on July 7, 2010.
↑ 10.0 10.1 10.2 10.3 Biography of Beatrice Arthur. Bea Arthur in the Lime Light. Retrieved on July 13, 2010.
↑ 11.0 11.1 11.2 11.3 11.4 Lifetime Biography: Bea Arthur Part 3. Youtube.com. Retrieved on July 13, 2010.
↑ 12.0 12.1 'Golden Girls' Star Bea Arthur Dies At 86. National Public Radio. Retrieved on July 13, 2010.
↑ 13.0 13.1 13.2 13.3 13.4 13.5 13.6 13.7 Lifetime Biography: Bea Arthur Part 4. Youtube.com. Retrieved on July 13, 2010.
↑ PRIMETIME EMMY® AWARD DATABASE. Emmys.com. Retrieved on July 18, 2010.
↑ 15.0 15.1 15.2 15.3 Biography for Bea Arthur. IMDB: The Internet Movie DataBase. Retrieved on July 13, 2010.
↑ 17.0 17.1 The Han Solo Comedy Hour! (page 2 of 3). Vanity Fair. Retrieved on October 5, 2011.
↑  Holiday Special: Script and Directors on StarWars.com (content now obsolete; backup link) (Filmfax magazine #69/70)
↑ 'The Star Wars Holiday Special': Read THR's 1978 Review. hollywoodreporter.com. THR Staff (November 17, 2014). Retrieved on November 26, 2014.
↑ Multimedia. The Star Wars Holiday Special. Retrieved on July 13, 2010.
↑  Episode II Video: Part Nine - Bucket Head on StarWars.com (content now obsolete; backup link)
↑ 24.0 24.1 May the farce be with you (page 1 of 3). Los Angeles Times. Retrieved on October 5, 2011.
↑ The Han Solo Comedy Hour! (page 1 of 3). Vanity Fair. Retrieved on October 5, 2011.
↑ THE BOOTLEG FILES: "THE BEATRICE ARTHUR SPECIAL". Film Threat. Retrieved on July 14, 2010.
↑ 29.0 29.1 29.2 29.3 29.4 29.5 29.6 29.7 Lifetime Biography: Bea Arthur Part 5. Youtube.com. Retrieved on July 14, 2010.
↑ DVD commentary - Amazon Women in the Mood, Futurama Season 3
↑ Two-time Emmy Award winner Bea Arthur dead at 86. CNN.com. Retrieved on July 14, 2010.
↑ Beatrice "Bea" Arthur. Find A Grave. Retrieved on July 14, 2010.
↑ Angela Lansbury 'Deeply Saddened' by Bea Arthur's Passing. Entertainment Tonight. Retrieved on July 14, 2010.
↑ Friends and Colleagues Remember Beatrice Arthur. TV Guide. Retrieved on July 14, 2010.
↑ Broadway Plans Tribute to Bea Arthur. Entertainment Tonight. Retrieved on July 14, 2010.
External links
Edit
Community content is available under
CC-BY-SA
unless otherwise noted.