A bender was a type of droid used in construction.
History
Along with extruders and shapers, benders made up part of the complement of droids used at Despayre to build the Death Star I.
Behind the scenes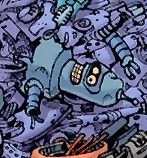 Bender is also a character from the popular cartoon Futurama. He was voiced by John William DiMaggio. Part of a junked droid strongly resembling Bender was seen in the Star Wars Tales comic, Junkheap Hero. Whether this is meant to be the canonical appearance of the Imperial bending unit is unclear.
Appearances
Community content is available under
CC-BY-SA
unless otherwise noted.