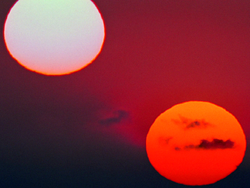 A binary star was a star system in which two stars revolved around a common center of mass. Supernovas were twice more likely to occur in binary star systems. Sometimes, however, the pair would be stable enough that planets would form around them, such as with the Tatoo system and the Byss and Abyss system. Such planets often orbited the binary star in a figure-of-eight fashion, as was the case with Byss. Having two suns did not lead to an orbiting world being a hot and arid one, as was the case with Tatooine early in its planetary history. Around 2,000,000 BBY, Tatooine was actually a lush and verdant world which was home to the sentient Kumumgah species. After defying their Rakatan masters, the planet was subject to an orbital bombardment as punishment that caused the silica in the soil to fuse and become glass, which over time became sand and caused a dramatic climate shift, resulting in Tatooine becoming a desert world.
Appearances
Edit
External links
Edit
Community content is available under
CC-BY-SA
unless otherwise noted.