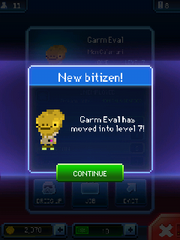 In Star Wars: Tiny Death Star, NPCs known as "bitizens" are named randomly based on a list stored within the game. This list of bitizens exists to catalog these names. Some of these characters may be misinterpreted by online sources as being canonical characters with a set history. While the existence of these characters may be canonical, the nature of their histories within the Star Wars universe is unclear.
Random Name Generator
Edit
For Tiny Death Star, the names for Bitizens are generated randomly by combining from a list of first names and a list of last names. In the table below are the unique first and last names that have been observed so far. (Information copied from Death Star Wiki by one of the page authors.)
Possible First Names
Possible Last Names

Adi
Ailyn
Ajunta
Alinn
Apailana
Appo
Aubrie
Aurra
B.
Barriss
Bastila
Bevel
Bib
Bly
Boba
Breed
Breha
Bren
Bria
C.
Cad
Carnor
Cham
Coleman
Cody
Darial
Deliah
Depa
Dott
Even
Falon
Fay
Feylis
Figrin
Firmus
Fode
Fox
Freia
Garris
Gilad
Iella
J.
Jaden
Jan
Jana
Jarael
Jax
Jenna
Jobal
Jocasta
Joclad
Jodo
Jude
Jysella

Karina
Karreio
Kass
Kit
L.
Leia
Liana
Logray
Lorth
Lott
Lyn
M.
Mara
Marasiah
Maris
Miraj
Mirax
Moradmin
Nien
Noa
Nute
Nyche
O.
Oola
Owen
Padme
Pix
Ponda
Rako
Rex
Roganda
Rune
Rush
Ryoo
Sabe
Sache
Satele
Scerra
Sintas
Siri
Sora
Stass
Steela
Sy
Syal
Talon
Tavion
Tenniel
Tyber
Tycho
Tyria
Vima
Visas
Wat
Wilhuff
Xamuel
Zeb
Zule

Ackbar
Allie
Amedda
Amidala
Antilles
Argente
Baba
Bast
Bibble
Binks
Bulq
Brashin
Celchu
Clovis
Colton
Crynyd
Daala
Dan
Danva
Delso
Derlin
Dod
Dodonna
Dofine
Drallig
Dunwell
Eval
Evazan
Fett
Fisto
Fortuna
Gerrera
Gev
Grey
Haako
Hardeen
Hill
Iblis
Isard
Janson
Jax
Jerjerrod
Jettster
Jinn

Kast
Katarn
Kenobi
Khai
Klivian
Kolar
Kota
Kryze
Lars
Lemelisk
Lennox
Madine
Medon
Mothma
Motti
Naberrie
Nadon
Nass
Needa
Nu
Organa
Ozzel
Panaka
Paratus
Pavan
Pelleon
Pestage
Piett
Ralter
Rebo
Rendar
Scintel
Secura
Senesca
Shan
Shrike
Sing
Syndulla
Taa
Tagge
Tarkin
Tharen
Thrawn
Typho
Unduli
Veers
Vos
Wesell
Zann
(please add from sample bitizens below)
List of Bitizens
Edit
Please feel free to add to this list, but just double check before doing so that the bitizen you are adding has not been added already. It has been arranged alphabetically by last name. (Spy) - (Name has been associated with a Rebel Spy)
The list below is a sample of randomly generated characters by combining from a list of first name, lastname, rebel or not, and a permutation of possible character looks.
Bitizens by Last Name
A - D
E - K
P - R
S - Z

A

Jude Ackbar
Jan Allie
Beed Amedda
Jaden Amedda
Visas Amedda
Dott Amedda
Teela Amidala (Spy)
Adi Antilles
Lot Antilles (Spy)
C. Argente
Jenna Argente (Spy)
Tion Argente (Spy)
Tyber Argente
Vima Argente
Cassio Argyus
Lott Ashgard
Kaye Ashgard
T. Ashgard
C. Axmis (Spy)
Oro Axmis
Pooja Axmis

B

Aurra Bane
Noa Bane (Spy)
Tohno Bane
Cham Bast
Cody Bast (Spy)
Gial Bast
Jadonna Bast
Jango Bast (Spy)
Derek Baba
Plo Baba
Iella Bibble
Sache Bibble (Spy)
Aubrie Binks
Lando Binks
Tavion Binks
Ajunta Brashin
Gilad Brashin
Scerra Brashin
Q. Brashin
Vette Brashin (Spy)
Bib Bulq
Kaye Bulq
Kendal Bulq (Spy)
Mas Bulq

C

M. Calrissian
Zam Calrissian
Breha Celchu
Dorme Celchu
Even Celchu
Janus Celchu (Spy)
Jorus Celchu
Mirta Celchu (Spy)
Rex Celchu
Tyria Clovis
Talon Clovis
Agen Clovis
Gavin Clovis
Cody Colton
Gavyn Colton
Talzin Colton
Zam Colton
Biggs Crynyd
Lynn Crynyd
Oola Crynyd
Zadawi Crynyd
Zev Crynyd

D

Falon Daala (Spy)
Vestara Daala
Cad Dan
Mirax Dan
Wat Dan
Feylis Danva
I. Darklighter
M. Darklighter
C. Dassyne (Spy)
Gilad Dassyne
Tia Dassyne
Apailana Delso
Carnor Delso (Spy)
Wilhuff Delso
Cham Derlin
Fox Derlin
Rahm Derlin (Spy)
Tyria Derlin
Noa Dod (Spy)
Sigel Dod
Tycho Dod
Bren Dodonna
Sora Dodonna
Bly Dofine (Spy)
Cody Dofine
Jan Dofine
Nyche Dofine
Zule Dofine (Spy)
C. Drallig (Spy)
Mara Drallig
O. Drallig
Sio Drallig
D. Dunhausen
Saw Dunhausen (Spy)
Amee Dunwell
Chi Dunwell
Dexter Dunwal
Karina Dunwell (Spy)
Rune Dunwell
Shmi Dunwell

E

Dash Eclipse
Fay Eclipse
Feylis Eclipse
Gilad Eclipse
Rush Eclipse
Seti Eclipse
Firmus Eval
Garm Eval
Sabe Eval
San Eval
Jorus Eval
Logray Evazan

F

Deena Farr
Finis Farr (Spy)
Jax Farr
Bastila Fett
Marasiah Fett
Morallo Fett
Nyche Fett
Rianna Fett
Sora Fett
Gilad Fisto
Joclad Fisto
Jodo Fisto
Padme Fisto (Spy)
Aurra Fortuna
Juna Fortuna

G

Even Gerrera
Garris Gerrera
Miraj Gerrera
Syal Gerrera
Bly Gev (Spy)
Jamillia Gev
Rune Gev
Jek Grey
Marasiah Grey
Ryoo Grey
Aayla Gunray
Barriss Gunray
Cody Gunray (Spy)
M. Gunray (Spy)

H

Amee Haako
Janus Haako (Spy)
Jax Haako
Tenenie Haako (Spy)
Corde Hardeen
Dorme Hardeen
Mako Hardeen
Tia Hardeen
Janus Hill
Passel Hill
Rune Hill

I

Barriss Iblis
Rom Iblis
Githany Isard
Tyber Isard

J

Carnor Janson (Spy)
Nien Janson (Spy)
O. Janson
Satele Janson
Taun Janson
Jek Jax
Appo Jerjerrod
B. Jerjerrod (Spy)
C. Jerjerrod
M. Jerjerrod
Oola Jerjerrod
Aiyn Jettster
G. Jettster
Moradmin Jinn
Nien Jinn
Teela Jinn

K

Anya Karrde
Jadonna Karrde
Jax Karrde
Taun Karrde
Cham Kast
Mako Kast
Pix Kast
Jocasta Katarn
Lorth Katarn
Sariss Katarn
Talon Katarn
Bren Kenobi
Cody Kenobi
Karreio Kenobi
Beru Khai
Jan Khai (Spy)
Malinza Khai
Seti Khai
M. Klivian
Zuud Klivian
Freia Kolar
Gregar Kolar
Jaina Kolar
Maris Kolar (Spy)
Tyber Kolar
Tycho Kolar
Cad Koon
Callista Koon
Mas Koon
Rahm Koon
Thire Koon
Shmi Koon
Apailana Korr (Spy)
Even Korr (Spy)
Anya Kota
Fay Kota
Adi Kryze (Spy)
Ajunta Kryze
Depa Kryze
Dexter Kryze (Spy)
Prestor Kryze
Teela Kryze

L

Darial Lars
Rom Lars
Wilhuff Lars
Zudd Lars
B. Lemelisk
Biggs Lemelisk
Dash Lemelisk
Jude Lemelisk
Cassio Lennox
Jana Lennox (Spy)
Mako Lennox
Wedge Lennox

M

Coleman Madine
Arvel Mandrell
Jaina Mandrell (Spy)
Carnor Medon
Even Medon
Roganda Medon
Sate Medon
J. Mothma
Mako Mothma
Oola Mothma
Bib Motti
Depa Motti
Liana Motti

N

Nute Naberrie
Barriss Nadon
M. Nadon
Ryoo Nadon
Sintas Nadon
Adas Nass
Malcor Nass
Ponda Nass
Shmi Nass
Talzin Nass
Firmus Needa
Derek Nu (Spy)
Jorus Nu
Karreio Nu
Owen Nu

O

Even Offee
Khaleen Offee
O. Ohnaka
Tyria Ohnaka
Oola Organa
Gilad Ozzel
Jarael Ozzel
Visas Ozzel
Satele Ozzel

P

Adi Pall (Spy)
Aubrie Panaka
Bren Panaka
Denga Panaka
Fode Panaka
Kass Panaka
Winter Panaka (Spy)
G. Papanoida
Rahm Papanoida (Spy)
Syal Papanoida
Max Paratus (Spy)
Steela Paratus
Theala Paratus (Spy)
Passelsard
Allyn Pavan (Spy)
Noa Pavan
Teneniel Pavan
Xamuel Pavan
Zuud Pavan
Cliegg Pelleon
Padme Pelleon
Tavion Pelleon
V. Pelleon
Visas Pelleon
Bevel Pestage
Ryoo Pestage
Sy Pestage
Carnor Piell
Lieda Piell
Nomi Piell
Boba Piett (Spy)
Falon Porkins
Jaden Porkins
Mas Porkins

Q

R

C. Ralter
Cham Ralter
Dorme Ralter
Saw Ralter
Corde Rebo
Darial Rebo
Dorme Rebo
Derek Rebo
Zule Rebo
Kazdan Rendar (Spy)
Logray Rendar
Sabe Rendar
Rune Rieekan (Spy)
Shmi Rieekan
Talon Rieekan

S

Freia Scintel (Spy)
Barriss Secura (Spy)
Cody Secura
L. Secura
Malinza Secura (Spy)
Max Secura
Miraj Secura
Gial Senesca
Gizor Senesca
K. Senesca
Miraj Senesca
Plo Senesca
Sate Senesca
Raymus Shan (Spy)
Siri Shan
Breha Shrike (Spy)
Sache Shrike
Azlyn Sing
Rom Sing
Talon Sing
C. Syndulla
Jana Syndulla
Jango Syndulla
Jorus Syndulla
Figrin Sykes
Kendal Sykes (Spy)
Sio Sykes

T

Garris Taa
Kazdan Taa
Prestor Taa
Ailyn Tagge
Bria Tagge
C. Tagge
Rex Tagge
Sigel Tagge
Appo Tambor
Jodonna Tambor (Spy)
Kazdan Tambor
M. Tambor
Rush Tambor
Embo Tarkin (Spy)
Finis Tarkin
Leia Tarkin
T. Tarkin
Pharl Thrawn
Scerra Thrawn
Zev Thrawn
Feylis Typho

U

Breha Unduli
Garris Unduli
Dash Unduli

V

Juno Valorum (Spy)
Nute Valorum
Stass Valorum
Cassio Veers
Coleman Veers (Spy)
Guri Veers
Rako Veers
Rush Veers
Cham Vos (Spy)
Iella Vos
Max Vos
Stass Vos
Vima Vos

W

Gizor Wesell
Kaye Wesell
Malinza Wesell
Morallo Wesell
Roganda Wesell

X

Y

Z

Garris Zann
Karina Zann
Moradmin Zann
Steela Zann
Appearances
Edit
Community content is available under
CC-BY-SA
unless otherwise noted.