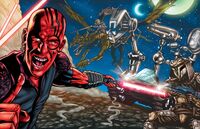 The Black Knights, also known as the Black Knights of Malrev IV,[1] were an alliance of Sith forged together by the Dark Underlord on Malrev IV. The organization was created roughly 250 years after the death of Darth Ruin, and suffered the defeat of their leader at the hands of Jedi Master Murrtaggh. The Underlord's Zeltron general led the defense against a simultaneous assault on the Black Knights Malrev IV fortress, a diversion staged by Mandalorian mercenaries to distract from the Jedi assassination attempt on their leader. The diversion was a success and the Black Knights' leader fell. The group's fate in the aftermath of the battle is unknown, although the Black Knights later reformed and rose up again a number of times over the following centuries, and were combated by the Padawan Yoda during the Fluwhaka revolt.[2]
Behind the scenes
Edit
In the second draft of A New Hope, the "Black Knights of the Sith" (earlier the "Knights of the Sith" in the rough draft) are named as the destroyers of the Jedi Bendu of Ashla. They were a group of pirates taught the ways of the Bogan by a fallen Padawan named Darklighter. In time, the Black Knights became the Galactic Emperor's personal guard. They were renamed the Dark Lords of the Sith in the third draft.[3]
In the book preface for Darth Vader: A 3-D Reconstruction Log, Darth Vader was referred to as the "Empire's black knight." However, he has no affiliation to the specific group beyond common Sith affiliation, having come into existence a little more than a thousand years after them.
Notes and references
Edit
Community content is available under
CC-BY-SA
unless otherwise noted.