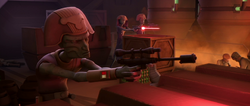 A black market was an illegal means of dealing goods and services, outside of the eyes of the government.
During the Clone Wars, Almec established a black market on Mandalore to provide needed goods after the planet was cut off from Galactic Republic aid.[1]
Ezra Bridger once stole several items from the TIE fighter of Baron Valen Rudor to sell on Lothal's black market.[2]
Appearances
Notes and references
External links