"Red Squad. Blue Squad. Take my lead."
―Poe Dameron during the Battle of Starkiller Base
Blue Squadron was a starfighter squadron in the Resistance active several decades after the Battle of Endor. It served as the primary line of defense for the Resistance base on D'Qar.
Shortly after the Hosnian Cataclysm, the First Order attacked Maz Kanata's castle on Takodana, in an attempt to capture Rey. Commander Poe Dameron led Blue Squadron in a fierce dogfight with First Order TIEs and strafing runs on stormtroopers on the ground.[10]
Starkiller Base
Edit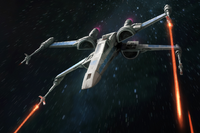 Blue Squadron, along with Red Squadron, participated in the Battle of Starkiller Base where they were lead by Black Leader Poe Dameron. Their mission was to destroy Starkiller Base before it could cause further harm on the galaxy. The mission was successful albeit with heavy Resistance losses.[2]
Evacuation of D'Qar
Edit
Following the Battle of Starkiller Base, the Resistance were forced to evacuate their base on D'Qar after the First Order discovered their location. Blue Squadron were launched alongside Red Squadron to buy time for the evacuation. Blue and Red Squadrons were tasked with defending the bombers of Cobalt and Crimson Squadrons. With the squadron leader Snap Wexley away on a mission, Lieutenant Tallisan Lintra lead Blue Squadron on the attack on the First Order's Dreadnought.[4]
Attack on Resistance Fleet
Edit
When the Resistance fleet was ambushed by First Order Supreme Leader Snoke's fleet, The pilots of Blue Squadron attempted to launch their starfighters but was stopped by Kylo Ren when he fired torpedoes at the hanger, killing Lintra and destroying Blue Squadron's fighters.
Appearances
Edit
Notes and references
Edit
↑ 10.0 10.1  Blue Squadron in the Databank (backup link)
↑ The novel Bloodline reveals that Leia Organa formed the Resistance in 28 ABY. Therefore Blue Squadron must have been formed between the years 28 ABY and 34 ABY.
Community content is available under
CC-BY-SA
unless otherwise noted.