A blurrg (plural: blurrg or blurrgs) was a non-sentient, two-legged beast of burden found throughout the galaxy. Blurrgs were notably used by the Twi'lek Resistance and Free Ryloth movement during the Clone Wars and Imperial Era, and they were also corralled by the moisture farmer Kuiil on Arvala-7.
Biology and appearance
Edit
Blurrgs were a two-legged non-sentient species that were used as beasts of burden on a number of worlds located across the galaxy,[4] including Endor[1] and Ryloth.[2]
Stoic and strong, they were used for everything from agricultural labor to war.[4] Male blurrgs were eaten by females after the mating process.[3]
The Twi'lek Resistance on Ryloth rode blurrgs in battle during the Battle of Ryloth, where they were used at the final offensive against Separatist forces in Lessu, charging at droid troops with the Grand Army of the Republic's Lightning Squadron.[2] During the time of the Mission to Zygerria, some blurrgs were sold in the markets of Zygerria.[5] Around 9 ABY,[6] the bounty hunter known as "the Mandalorian" and the Ugnaught Kuiil tamed and rode blurrgs during the hunters' mission to Arvala-7.[3]
Behind the scenes
Edit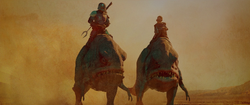 In the Star Wars canon, blurrgs first appeared in "Liberty on Ryloth," an episode of the animated television series Star Wars: The Clone Wars that first aired in 2009.[2] In the Star Wars Legends continuity, blurrgs first appeared in the 1985 television film Ewoks: The Battle for Endor,[7] and were based on a creature sketched for the 1980 film Star Wars: Episode V The Empire Strikes Back.[8]
Appearances
Edit
Notes and references
Edit
↑ 4.0 4.1  Blurrg in the Databank (backup link)
External links
Edit
Community content is available under
CC-BY-SA
unless otherwise noted.