"So it was a bomb."
"Yes, Master, someone is trying to murder you."
―Lando Calrissian and Vuffi Raa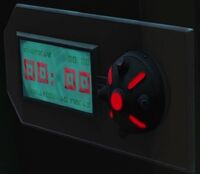 A bomb was an explosive device. Types of bomb included: ammonia bomb, anti-matter bomb, atomic compression bomb, baradium bomb, cluster bombs such as the CL-3 antistarfighter cluster bomb and the magnepulse bomb, concussion bomb, core bomb, disruptor bomb, electro-proton bomb, energy bomb, flash bomb, gas bomb, glop bomb, gravity bomb, incremental-sequence bomb, ion bomb, Jedi shadow bomb, the M-12, neutron bomb, nuclear bombs such as the fission bomb, parasite bomb, plague bomb, plasma bomb, pressure bomb, proton bomb, radiation bomb, talking bomb, thermal bomb, thermite bomb, thought bomb, time bombs such as the TB-47 time bomb, tow-cable bomb, the XG Anti-Gravity Field Bomb, and the Zicx-bug bomb. The Immobilizer 418 cruiser Bomb was named after the explosive device.
Community content is available under
CC-BY-SA
unless otherwise noted.