Jurassic World: Dominion Dominates Fandom Wikis - The Loop
Play Sound
"Seal off the bridge!"
―Nute Gunray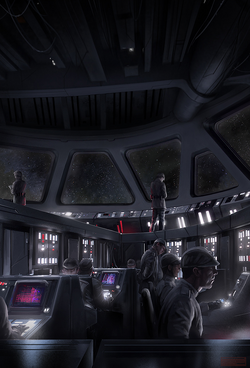 The bridge, otherwise known as the command deck, was a structure, either attached to the main hull via a tower or pylon, or built into the hull, of nearly all large starships in the galaxy. Larger and containing more stations and functionality than a small ship or starfighter's cockpit, it was the central hub of a vessel's activity, serving as its primary command-and-control station. From here, the ship's captain could assign courses for hyperspace jumps to be input by the astrogator, sublight maneuvers to be carried out by the ship's pilot or, in the case of warships, attack strategies and gunnery missions to be executed by the ship's gunners.
The layout of a warship's bridge varied depending on the role of the vessel. For example, Kuat Drive Yards designed several warship command bridges with a single, wedge-shaped tower. Some carriers had a distinctive dual-bridge design, such as the Secutor or Venator classes.[2]
Bridges were typically equipped with blast doors. The Saak'ak utilized its bridge's blast doors to keep out Jedi Qui-Gon Jinn and Obi-Wan Kenobi during unsuccessful negotiations before the Invasion of Naboo.[1]
The crash of the Executor at the Battle of Endor demonstrated the weakness of typical external bridge design. A single A-wing starfighter crashed into the bridge during the Battle of Endor, breaching its hull and killing the command staff.[3]
Appearances
[
]
Sources
[
]
Notes and references
[
]
External links
[
]