Cobra Kai Season 4 - The Loop
Play Sound
The Bright Jewel system, also referred to as the Ord Mantell system, contained the planet of Ord Mantell and the primary star, Bright Jewel.
History
[
]
During the Galactic Civil War, Space stations in the system included the Tansarii Point Station[3] and its twin station Nova Orion Station,[4] the dangerous asteroid base Station Gamma, and the H-5 70 Mining Facility, which was used by the Dynath Miners.[3]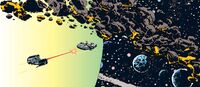 The area known as Darkveil Eclipse served as a central hub of all Black Sun activities in the system during the Galactic Civil War.[3]
Circa 1 ABY,[7] several quadrants of the system were the site of a battle between Car'das and Black Sun forces.[3]
Appearances
[
]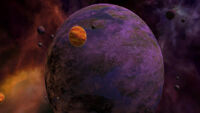 Sources
[
]
Notes and references
[
]
↑ 1.00 1.01 1.02 1.03 1.04 1.05 1.06 1.07 1.08 1.09 1.10 1.11 1.12 1.13 1.14 1.15 1.16 The Essential Atlas
↑ 2.0 2.1 2.2 Star Wars: The Essential Atlas Online Companion on StarWars.com (article) (backup link)
↑ 3.00 3.01 3.02 3.03 3.04 3.05 3.06 3.07 3.08 3.09 3.10 3.11 3.12 3.13 3.14 3.15 Star Wars Galaxies: Starter Kit—Prologue
↑ 4.0 4.1 Star Wars Galaxies: The Complete Online Adventures—Chapter 8: The Nova Orion Crisis
↑ Star Wars: The Old Republic—Jedi Knight Mission: "New Intelligence" on Ord Mantell