Wiki Targeted (Entertainment)
Play Sound
Broadleaf forests grew on the moon Ajan Kloss.
Broadleaf forests were the primary terrain of the overgrown Ajan Kloss, which, when seen from afar in space, was almost completely covered in green.[2]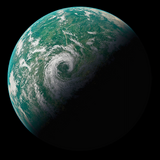 A gas giant-orbiting moon once inhabitated by a civilization came to house broadleaf forests. Long before the time of the battle on Exegol between forces of the Sith and Jedi, some of the densely vegetated world's forests were cleared by its people, centuries afterwhich the world was charted by Alderaanian scouts.[2]
Having originated from the faraway Core World of Alderaan—a world sympathetic with the Alliance to Restore the Republic—and to have made their discovery[2] shortly prior to the outbreak of the Galactic Civil War[3]—waged between the Alliance and the ruling government known as the Galactic Empire—the scouts withheld news of their discovery from the wider galaxy, and the forested world was considered as a place for their main base of operations by the Alliance.[2]
However, it would not be until decades later that another group would find a home on the new-found world. Amidst the war between the First Order and the Resistance, the latter organization—led by the Alderaanian Leia Organa, hero of the Alliance to Restore the Republic—settled in a jungle area of the world, then known as Ajan Kloss, which they named the Klosslands. During their stay, Resistance members found cleared areas of forests, which they believed were evidence of ancient inhabitants on the world, who they named the Kloss.[2]
Broadleaf first appeared in the roleplaying adventure Starfighters Down, which was published in the 1989 Star Wars Legends magazine Challenge 38.[4] Broadleaf was first introduced to canon through the 2019 reference book Star Wars: The Rise of Skywalker: The Visual Dictionary.[2]
Community content is available under
CC-BY-SA
unless otherwise noted.