Jurassic World: Dominion Dominates Fandom Wikis - The Loop
Play Sound
"There is nothing I love more than diving into a manuscript and helping to pull out all its potential. I believe in collaboration, but also brutal honesty. Too often as an author it is difficult to see where a story is not being true to itself."
―Brooke Vitale
Brooke Vitale (born Dworkin) is an American children's book author and editor. For eight years, Vitale was employed as Senior Editor and author at Disney Publishing Worldwide. During her tenure, Vitale contributed to a plethora of Star Wars titles published under the Disney–Lucasfilm Press imprint.
After a transition to freelancing, Vitale has continued to author Star Wars young readers titles. Most notably, Vitale has written three short stories which were collected in the 2015 children's storybook 5-Minute Star Wars Stories and subsequent limited-release publications. Additionally, she has contributed to publishing programs tying into the Disney XD series Star Wars Rebels and the Disney+ series The Mandalorian.
Biography
[
]
Star Wars beginnings

[

]
Brooke Vitale, born Dworkin,[2] is an American children's book author and editor.[1] She is credited with work on many Star Wars titles published by Disney–Lucasfilm Press.[3]
In July 2010, Vitale joined Disney Publishing Worldwide as an Editor and was promoted to Senior Editor three years later.[2] After the acquisition of Lucasfilm Ltd. by The Walt Disney Company in 2012,[4] Star Wars books began to be published by Disney Publishing Worldwide under the Disney–Lucasfilm Press banner.[5] Beginning in 2014, Vitale oversaw the development of a variety of Star Wars young readers titles and wrote several of them herself.[2]
Star Wars Rebels: Storybook Library

[

]
Vitale's first Star Wars titles were published as part of the Star Wars Rebels: Storybook Library box set[3] on December 22, 2014.[6] For the collection, she authored Art Attack, Entanglement, and Property of Ezra Bridger. Each book retells the events of the shorts from the first season of the Disney XD television series Star Wars Rebels. Additionally, Vitale authored Who Are the Rebels?, which provided general information about each of the main characters from the series.[3]
TIE Fighter Trouble was adapted by Vitale from the first season episode "Fighter Flight," written by Kevin Hopps.[7] The book was originally planned to be published independently from the box set on March 31, 2015, but it was canceled and released exclusively in the Storybook Library in the United States.[8] In India, TIE Fighter Trouble was still published separately by Scholastic Inc. in November 2015.[9]
Other storybooks
[
]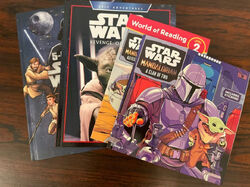 Between July 2015[10] and December 2015,[11] three short stories by Vitale were published in Star Wars–themed illustrated storybooks. The titles included "Escape from Darth Vader," "Rescue from Jabba's Palace," and "The Ewoks Join the Fight."[12] Each story shares a title with and recycles art from standalone World of Reading books by author Michael Siglain,[13] but the writing in each of Vitale's tales is wholly original.[12]
Vitale's three short stories saw wide release with the publication of 5-Minute Star Wars Stories[12] on December 18, 2015.[11] Additionally, the stories were published in limited-release storybooks between 2015 and 2017 including Star Wars Galactic Adventures[14] and its 2016 reissue,[15] 5-Minute Star Wars Hero Stories[16] and Villain Stories,[17] as well as Star Wars Galactic Stories: 7 Stories from a Galaxy Far, Far Away.....[18] On January 17, 2022, Vitale's short stories from 5-Minute Star Wars Stories were released in a German unabridged audiobook of the same name. Translator Frederik Kugler adapted Vitale's work into German for the title's release.[19]
As an editor, Vitale contributed to 3 Out-of-This-World Tales!, a collection of three World of Reading books with an accompanying audio CD.[20] The title was published on August 29, 2017[21] and is the last Star Wars title Vitale worked on as Senior Editor at Disney Publishing.[20]
Freelance work
[
]
In January 2018, after the birth of her sons, Vitale left her position at Disney Publishing and transitioned to freelance editing and writing.[22] Though she no longer holds a position at Disney, Vitale has still authored several titles for Disney–Lucasfilm Press as a freelancer.[23]
In 2019, Vitale wrote Revenge of the Sith, a 96-page hardcover illustrated storybook adaptation of the eponymous film. The story was written from the perspective[24] of the protocol droid[25] C-3PO and was scheduled to be published in a joint venture between Disney–Lucasfilm Press and Sandvik Publishing as part of the latter's Star Wars Epic Adventures monthly subscription series. While the book was completed and several copies were printed,[24] it never reached publication as the Epic Adventures series was canceled before the book's scheduled release.[26]
On June 30, 2020, Vitale was announced as a contributor to The Mandalorian publishing program, a multi-publisher initiative releasing books related to the Disney+ series The Mandalorian.[23] Her first two books as part of the program, The Mandalorian: Allies & Enemies[27] and The Mandalorian: A Clan of Two[28] adapted storylines from The Mandalorian Season One and were published on December 1, 2020.[27][28] On May 4, 2021,[29] the storybook Star Wars: The Mandalorian: Volume 1, Vitale's full adaptation of the series' first season, was published as part of the Disney Die-Cut Classics series from publisher Studio Fun International.[30]
Vitale also authored The Mandalorian: The Mandalorian's Quest[31] and The Mandalorian: The Path of the Force[32] which adapt events from The Mandalorian Season Two.[32] The titles were published by Disney–Lucasfilm Press on January 11, 2022.[31][32]
Bibliography
[
]
Sources
[
]
Notes and references
[
]
↑ 1.0 1.1 1.2 1.3 1.4 1.5 1.6 Brooke Vitale - Editor. reedsy.com. Reedsy. Archived from the original on October 3, 2020.
↑ Schou, Solvej: Mickey meets 'Star Wars': Walt Disney Co. completes acquisition of Lucasfilm (2012-12-21). Entertainment Weekly. Meredith Corporation. Archived from the original on December 22, 2012. (Content now obsolete)
↑ Star Wars Rebels: Storybook Library (BTMS Custom Pub) on the official Hachette Book Group Business Portal website (content now obsolete; backup link)
↑ Star Wars Classic: Story Time Tin (BTMS Custom Pub) on the official Hachette Book Group Business Portal website (content now obsolete; backup link not available)
↑ According to Star Wars 5-Minuten-Geschichten on Amazon.de (backup link), the 5-Minute Star Wars Stories audiobook is an unabridged adaptation. By definition, this means that every story included in the original printed release will be adapted into the audiobook format. As Vitale is credited as having written several titles in the short story collection, her stories must be adapted into the audiobook.
↑ 20.0 20.1 20.2 Vitale, Brooke: Brooke Vitale. brookevitale.com. (backup link not available) (Screenshot)
↑ World of Reading: Star Wars Star Wars 3-in-1 Listen-Along Reader (World of Reading Level 1): 3 Tales of Adventure with CD! on Amazon.com (backup link)
↑ 4 Things You Need To Know Before You Write a Picture Book on the Reedsy YouTube channel (backup link)
↑ 24.0 24.1 24.2 Bende, S.T.: Star Wars Epic Adventures: Revenge of the Sith. Author S.T. Bende. Archived from the original.
↑ 26.0 26.1 Star Wars Epic Adventures Subscription on Amazon.com (backup link) explains that the Star Wars Epic Adventures subscription series was canceled after its second monthly drop, featuring Attack of the Clones. Since the series overall was canceled, it can be inferred that Revenge of the Sith was canceled as well.
↑ 27.0 27.1 27.2 Star Wars: The Mandalorian: Allies & Enemies Level 2 Reader on the official Hachette Book Group Business Portal website (content now obsolete; backup link)
↑ 28.0 28.1 28.2 Star Wars: The Mandalorian: A Clan Of Two on the official Hachette Book Group Business Portal website (content now obsolete; backup link)
↑ 31.0 31.1 31.2 Star Wars: The Mandalorian: The Mandalorian's Quest on the official Edelweiss+ website (backup link)
External links
[
]